Schizophrenia is a complex mental disorder that requires comprehensive assessment and care planning. This article explores the essential nursing diagnosis for schizophrenia and offers practical guidance on how to manage this condition effectively.
What is Schizophrenia?
Schizophrenia refers to a group of severe, disabling psychiatric disorders marked by withdrawal from reality, illogical thinking, possible delusions and hallucinations, and emotional, behavioral, or intellectual disturbance.
The most common early warning signs of schizophrenia are usually detected until adolescence. These include depression, social withdrawal, unable to concentrate, hostility or suspiciousness, poor expressions of emotions, insomnia, lack of personal hygiene, or odd beliefs.
Nursing Care Plans
Nursing care plan goals for schizophrenia involve recognizing schizophrenia, assessing positive and negative symptoms, establishing trust and rapport, reducing symptoms, enhancing communication, maximizing the level of functioning, improving social functioning, developing coping strategies, promoting medication compliance, and evaluating the support system.
Here are six (6) nursing diagnoses for schizophrenia that you can use for your nursing care plan (NCP):
Impaired Verbal Communication
Patients with schizophrenia often experience impaired verbal communication due to various factors such as disorganized thinking, difficulty concentrating, and auditory hallucinations. These symptoms can interfere with the patient's ability to express clearly and coherently, making it challenging to engage in meaningful conversations.
Nursing Diagnosis
Related Factors
Altered Perceptions
Biochemical alterations in the brain of certain neurotransmitters
Psychological barriers (lack of stimuli)
Side effects of medication
Possibly evidenced by
Difficulty communicating thoughts verbally.
Difficulty in discerning and maintaining the usual communication pattern.
Disturbances in cognitive associations (e.g., perseveration, derailment, poverty of speech, tangentiality, illogicality, neologism, and thought blocking).
Inappropriate verbalization.
Desired Outcomes
The patient will express thoughts and feelings in a coherent, logical, goal-directed manner.
The patient will demonstrate reality-based thought processes in verbal communication.
The patient will spend time with one or two other people on structured activity-neutral topics.
The patient will spend two to three 5-minute sessions with the nurse sharing observations in the environment within 3 days.
The patient will be able to communicate in a manner that can be understood by others with the help of medication and attentive listening by the time of discharge.
The patient will learn one or two diversionary tactics that work for him/her to decrease anxiety, hence improving the ability to think clearly and speak more logically.
Nursing Assessment and Rationales
1. Assess if incoherence in speech is chronic or if it is more sudden, as in an exacerbation of symptoms.
Establishing a baseline facilitates the establishment of realistic goals, the foundation for planning effective care.
2. Identify the duration of the psychotic medication of the client.
Therapeutic levels of an antipsychotic aid clear thinking and diminishes derailment or looseness of association.
3. Look for themes in what is said, even though spoken words appear incoherent (e.g., fear, sadness, guilt).
Often client's choice of words is symbolic of feelings.
Nursing Interventions and Rationales
1. Keep voice in a low manner and speak slowly as much as possible.
A high-pitched/loud tone of voice can elevate anxiety levels while slow speaking aids understanding.
2. Keep the environment calm, quiet, and as free of stimuli as possible.
Keep anxiety from escalating and increasing confusion and hallucinations/delusions.
3. Plan short, frequent periods with a client throughout the day.
Short periods are less stressful, and periodic meetings give a client a chance to develop familiarity and safety.
4. Use clear or simple words, and keep directions simple as well.
The client might have difficulty processing even simple sentences.
5. Use simple, concrete, and literal explanations.
Minimizes misunderstanding and/or incorporates those misunderstandings into delusional systems.
6. Focus on and direct the client's attention to concrete things in the environment.
Helps draw focus away from delusions and focus on reality-based things.
7. When you do not understand a client, let him/her know you are having difficulty understanding.
Pretending to understand limits your credibility in the eyes of your client and lessens the potential for trust.
8. When the client is ready, introduce strategies that can minimize anxiety and lower voices and "worrying" thoughts, teach the client to do the following:
Helping the client to use tactics to lower anxiety can help enhance functional speech.
Focus on meaningful activities.
Learn to replace negative thoughts with constructive thoughts.
Learn to replace irrational thoughts with rational statements.
Perform deep breathing exercises.
Read aloud to self.
Seek support from staff, family, or other supportive people.
Use a calming visualization or listen to music.
9. Use therapeutic techniques (clarifying feelings when speech and thoughts are disorganized) to try to understand the client's concerns.
Even if the words are hard to understand, try getting to the feelings behind them.
Recommended Resources
Recommended nursing diagnosis and nursing care plan books and resources.
Disclosure: Included below are affiliate links from Amazon at no additional cost from you. We may earn a small commission from your purchase. For more information, check out our privacy policy.
Ackley and Ladwig's Nursing Diagnosis Handbook: An Evidence-Based Guide to Planning Care
We love this book because of its evidence-based approach to nursing interventions. This care plan handbook uses an easy, three-step system to guide you through client assessment, nursing diagnosis, and care planning. Includes step-by-step instructions showing how to implement care and evaluate outcomes, and help you build skills in diagnostic reasoning and critical thinking.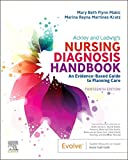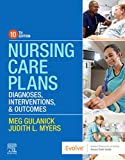 NANDA International Nursing Diagnoses: Definitions & Classification, 2021-2023
The definitive guide to nursing diagnoses is reviewed and approved by NANDA International. In this new version of a pioneering text, all introductory chapters have been rewritten to provide nurses with the essential information they need to comprehend assessment, its relationship to diagnosis and clinical reasoning, and the purpose and application of taxonomic organization at the bedside. A total of 46 new nursing diagnoses and 67 amended nursing diagnostics are presented.
Nurse's Pocket Guide: Diagnoses, Prioritized Interventions, and Rationales
Quick-reference tool includes all you need to identify the correct diagnoses for efficient patient care planning. The sixteenth edition includes the most recent nursing diagnoses and interventions from NANDA-I 2021-2023 and an alphabetized listing of nursing diagnoses covering more than 400 disorders.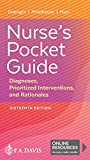 Nursing Diagnosis Manual: Planning, Individualizing, and Documenting Client Care 
Identify interventions to plan, individualize, and document care for more than 800 diseases and disorders. Only in the Nursing Diagnosis Manual will you find for each diagnosis subjectively and objectively – sample clinical applications, prioritized action/interventions with rationales – a documentation section, and much more!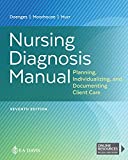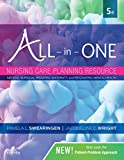 See also
Other recommended site resources for this nursing care plan:
Other care plans for mental health and psychiatric nursing:
References and Sources
Here are references and sources for schizophrenia:
Bartels, S. J., Mueser, K. T., & Miles, K. M. (1997). A comparative study of elderly patients with schizophrenia and bipolar disorder in nursing homes and the community. Schizophrenia Research, 27(2-3), 181-190. [Link]