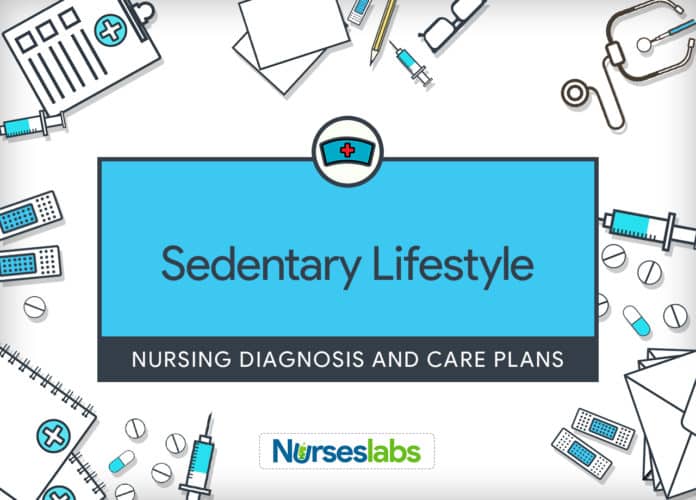 The nursing diagnosis Sedentary Lifestyle is defined as reports a habit of life that is characterized by low physical activity level. Learn about the nursing interventions, care plan goals, and related factors for the Sedentary Lifestyle nursing diagnosis.
In this fast changing world, social changes and technology has made active lifestyles to more sedentary ways of life. People nowadays do not actively seek out regular exercise routines. Lack of physical activity can lead to serious medical conditions, including diabetes, heart disease, obesity, and other cancers. Stressful and busy lifestyle, socioeconomic factors, physical constraints, and lack of motivation all contribute to low physical activity. Nurses have a pivotal role to play in increasing awareness on the importance of adopting an active lifestyle and to actively encourage all patients, regardless of demographics, to balance sedentary behavior and physical activity.
Related Factors for Sedentary Lifestyle
Here are some factors that may be related to the nursing diagnosis Sedentary Lifestyle:
Cultural beliefs or habits
Lack of interest in physical activity
Deficient knowledge of health benefits associated with physical exercise
Lack of motivation for physical activity
Insufficient resources for physical activity
Insufficient training for physical exercise
Pain or chronic illness
Defining Characteristics of Sedentary Lifestyle
The following are the assessment cues or inferences that define sedentary lifestyle nursing diagnosis:
Average daily physical activity is less than recommended for gender and age
Manifests physical deconditioning
Verbalizes reference for activity low in physical activity
Goals and Outcomes
The following are the common goals and expected outcomes for Sedentary Lifestyle nursing diagnosis:
Patient verbalizes the importance and benefits of physical activities or exercise.
Patient identifies necessary precautions and safety concerns and self-monitoring techniques.
Patient engages in the planned exercise program.
Patient exhibits improvement in physical, mental, social, and emotional functioning of the body.
Nursing Assessment for Sedentary Lifestyle
The following are the assessment techniques and cues for Sedentary Lifestyle nursing diagnosis. Use the techniques below to formulate your assessment.
Assessment
Rationale
Assess the patient's present level of physical activity, including both lifestyle activity and structural exercise.

The following table uses number of steps walked per day as a way to quantify levels of physical activity.
Sedentary lifestyle
<5,000 steps per day
Low active
5,000-7,499 steps per day
Somewhat active
7,500-9,999 steps per day
Active
10,000-12,500 steps per day
Highly active
>12,500 steps per day

This assessment gives a basis for increasing activity. Few physical activity is always better than none.
Assess the patient's knowledge and background on physical activity by asking related questions about the topic.
Sample questions:

How do you feel about exercise?
Do you find physical activity important in your everyday life?

Information about the patient's knowledge and background about physical activity will provide a basis for developing a physical activity program.
Assess the patient's previous experiences with structured physical activity.
Exploring the experiences of the patient either successful or not may serve as a base on which to build. Patients may learn something from it to become more active.
Assess the patients level of mobility and physical status before prescribing an activity plan.
A baseline assessment of physical status will allow the nurse to safely begin an exercise plan particular to the ned=eds of the patient. Screening tools such as the Physical Activity readiness Questionnaire (PAR-Q) provide guidance as to when a medical examination may be required before initiating a program.
Assess the patient's determination to increase physical activity using a scale of 0 to 10.
Patients morale will likely determine his or her ability to perform physical activity and start an exercise program.
Assess the patient's willingness to start a physical activity by asking certain questions like:

How do you feel about initiating an exercise routine?
Are you ready to choose a time to start being more active?

The Transtheoretical Model stresses that interventions should be balanced and coordinated with the stage of change at which the patient is situated. If the patient is only in the stage of considering the activity, efforts should be directed towards the benefits of physical activity, whereas if the patient is in the action stages, more directions regarding exercise and physical activity can be addressed.
Determine possible obstacles to the planned exercise or activity.
Lack of resources can be a hindrance in the success of completing an activity.
Assess vital signs especially the heart rate before beginning an exercise.
Vital signs provide baseline data and will determine if the patient is physically ready in performing an activity.
Nursing Interventions for Sedentary Lifestyle
The following are the therapeutic nursing interventions for Sedentary Lifestyle nursing diagnosis:
Nursing Interventions
Rationale
Assist the patient in setting realistic short-term and long-term goals for increasing physical activity.
Setting realistic goals help maintain motivation and evental success of the exercise program.
Expound to the patient on how to make sedentary activities more active.

Examples:

Walking while on the telephone
Dancing while listening to music
Stretching while watching television

Simple exercise or movement can be associated into many sedentary activities and may get patients int eh habit of choosing active behaviors.
For patients with certain health conditions such as heart diseases, arthritis, or COPD, emphasize the importance of starting slow and gradually increasing activity.
Abrupt exercise can cause exacerbation of symptoms and discourage patients from completing the exercise routine.
Provide ways to incorporate exercise into a regular habit by suggesting parking away from a store, taking walks during breaks, and using the stairs instead of elevators.
Lifestyle modification is a big step in fighting a sedentary lifestyle.
Encourage purposeful physical activities.
Patients are more likely to start and continue the exercise routine if he or she finds a beneficial purpose about the activity. Patients may likely join activities for socialization, not just solely for exercise.
Discuss with the patient the proper use of pedometer or step counter to track steps per day. Determine the number of steps needed to accomplish in a 10-minute walk.
Pedometers can be a useful tool to to quantify activity level and can also be used to focus on a number of steps walked per 10-minutes, with the idea of walking 150 minutes per week goal. Each patient will have his or her own goal to work toward.
Tell the patient to find an activity or exercise partner.
Recruiting a support person may provide additional motivation to achieve exercise goal.
Introduce an activity calendar, so patients can monitor their physical activity on a daily basis.
Tracking devices serve as a visual reminder of exercise achievement as well as self-monitoring approach.
Provide emotional support while increasing activity.
Patients may be reluctant and fearful in completing an exercise goal. Ongoing support increase motivation in accomplishing set goals.
Educate the patient about the importance of physical activity in health.
Patient and families need information on the many health benefits of exercise and potential health risk of having sedentary lifestyle.
Educate patients to reward themselves for an accomplished goal.
Rewards are motivational and can give sense of satisfaction for a successful activity.
Refer patients to community resources such as walking groups, park districts, or other community activity centers.
Patients may not be aware of the available programs provided by the community.
See Also
You may also like the following posts and care plans:
References and Sources
The following are the recommended sources for Sedentary Lifestyle nursing diagnosis:
Ackley, B. J., Ladwig, G. B., Msn, R. N., Makic, M. B. F., Martinez-Kratz, M., & Zanotti, M. (2019). Nursing Diagnosis Handbook E-Book: An Evidence-Based Guide to Planning Care. Mosby. [Link]
Carpenito-Moyet, L. J. (2006). Handbook of nursing diagnosis. Lippincott Williams & Wilkins. [Link]
Guedes, N. G., de Oliveira Lopes, M. V., Moreira, R. P., Cavalcante, T. F., & De Araujo, T. L. (2010). Prevalence of sedentary lifestyle in individuals with high blood pressure. International Journal of Nursing Terminologies and Classifications, 21(2), 50-56. [Link]
Tremblay, M. S., Colley, R. C., Saunders, T. J., Healy, G. N., & Owen, N. (2010). Physiological and health implications of a sedentary lifestyle. Applied physiology, nutrition, and metabolism, 35(6), 725-740. [Link]