Finding the right gift for any person (especially if they are nurses) is not as easy as we would like it to be. It often takes a lot of time and research in order to find the right present that other person will enjoy. This is especially true when it comes to buying a gift for nurses. Fortunately, there are plenty of great ideas that will make this gift season memorable for your nurse friend. That being said, let's take a look at the list of the best 40+ nursing gift ideas you can buy for a nurse:
1. Playing Cards
Apparently, all nurses do now is "play cards" during their shift! 
2. "I'm A Nurse. What's Your Super Power?" Mug
---
A mug that every nurse can proudly use! Hand painted ceramic decal message mug and has gift box.
More colors available at Amazon
3. Nurse Life: A Snarky Adult Coloring Book (Humorous Coloring Books For Grown-Ups)
---
Nurses, you truly are angels in disguise. In the most trying times and stressful circumstances, you are compassionate, kind, wise, and patient beyond measure. But let's be real. All that self-sacrifice must give you daydreams of hijacking some gurneys and pushing each other straight to Mexico for vacation. Well, put back the gurneys and pick up this Coloring Book for Grown-Ups instead! With each page you color, feel the exhaustion and stress melt away like so many ocean waves and margaritas.
4. "101 Blessings for Nurses" Cards – A Box of Blessings
---
Nurses are on the front line for patient care. Show appreciation to the nurses that you know, and the ones who endeavor to provide you with comfort and care. Made for sharing, these are 51 – 2 sided, playing card size, inspirational messages in a box. Give all at once to draw from for a 'lift', or keep a box to hand out and pass around. Your small gift will be received with smiles and gratitude for your thoughtfulness.
They come packed in a sturdy, lidded box. The set has uniquely designed artwork and message theme, especially for nurses.
5. The Ambulance Figurine Comic Art of Guillermo Forchino 15 1/2 Inch Long
---
"The deafening sound of a siren hammered the eardrums of the people in the street. An ambulance crossed town at high speed. Two accident victims with broken limbs, multiple contusions, and various other injuries were being transported to the emergency room. A young nurse with an exuberant body and shapely curves was providing very sensual emergency care which made them forget all suffering. Meanwhile, the driver suffered from a slight strabismus though it did not prevent him from swerving dangerously through the hundreds of cars who, at that hour, clogged the roads of the town. He just missed two light poles, grazed 14 cars, hit two motorcyclists and rammed a truck, but his orders were to arrive as fast as possible. The first to be taken to the emergency room was the paramedic who had been sitting next to the driver; he had arrived unconscious with symptoms of cardiac arrest."
6. 'Super Nurse' Travel Mug
---
This is yet another handy gift that will be used on daily basis by nurses. Perfect for cold and hot beverages (in short coffee).
7. Nurse's Knee 'Sock It To Me'
---
Everyone wears socks. Why not wear those that truly relate to a nurse?
8. Heartbeat Nurse Socks
---
Nothing says "I lub dub" you than these heartbeat nurse socks.
9. I Wasn't Strong Like This When I Started Out: True Stories of Becoming a Nurse
---
Perfect way to showcase experiences of other nurses. Purchase the book and whoever receives this definitely will appreciate not only the book but their profession as a nurse as well.
Available at Amazon $11.64 (Paperback) | $8.69 (Kindle)
10. Hand Painted Limoges Porcelain Nurse Protocols Book Box with Stethoscope Box
---
Authentic French hand painted Limoges Porcelain Nurse Book with Stethoscope Box.
11. Keurig Single-Serve Coffee Maker with Prestee 36 Capsule Drawer
---
For nurses who enjoy their caffeine, this is a perfect gift!
12. Nurses Need Shots Too
---
Nurses do call the shots but nurses do need shots as well.
13. Nurse Practitioner Charm Necklace
---
If your friend is into jewelry and things of this sort, then she will love it.
14. Nurse Assist Clipboard
---
This clipboard is the perfect quick reference tool for nurses! It has a clock, timer, alarm, and calculator functions. The board itself features 13 different diagnostic and assessment guides.
15. Registered Nurse Disc Charm Pendant
---
Why not give a personalized gift with their name on it?
16. Be Safe Drink With Nurse
---
Almost everyone loves wine. Why not make sure we are safe while drinking?
Buy at Etsy (other colors available)
17. Heartbeat Necklace
---
A perfect gift that symbolizes life and nursing.
18. Morning Medicine Funny Glass Coffee Mug 13 oz
---
A popular gift idea for nurses. Humor+caffeine=win!
19. Male Scrubs Nurse Christmas Ornament
---
Carefully hand painted ornament, easy to personalize with Sharpie or like pen.
20. Nurse Watches
---
These nurse watches are ideal for nurses! Instead of wearing them on your wrist, they clip on to your uniform and are compliant to the Bare Below Elbows (BBE) policy that requires medical professionals to have nothing on their arms below the elbow.
More designs available only at NurseWatches.com
21. Chicken Soup for the Nurse's Soul
---
A collection of true stories that champions the daily contribution, commitment, and sacrifices of nurses.
22. KONA French Press Coffee Tea & Espresso Maker
---
Another great coffee maker for nurses who need their caffeine breaks during work.
23. Hero Nurse Poster
---
Nurses are heroes! What a great way to show this via this poster that says "Save one life: you are a hero. Save 100 lives: you are a nurse."
Price starts at $10, Buy from Etsy
24. Emergency Meal Transport Insulated Tote
---
This insulated tote will keep your precious lunch (if nurses ever get one) prepped and ready to transplant right into your waiting stomach!
25. Nurse Ornament
---
These ornaments come with a silhouette of a nurse and a "dare to care" print at the back. Perfect for Christmas trees!
26. Funny Stemless Wine Glass for Nurses
---
For nurses who need their shots. Humor your giftee with these wine glasses!
27. RN Jacket
---
Give to that nurse whom you think needs to stay warm.
28. Prestige Medical Nurse Cargo Bag
---
Another useful gift for nurses! Features a travel mug holder, front mesh pouch, cell phone pouch and a removable aneroid sphygmomanometer compartment!
29. Hard Case Cover Heart Stethoscope for Nurses
---
High quality hard plastic outer shell with a shock absorbing soft rubber inside skin for your iPhone 6 and 6S!
30. Call the Nurse: True Stories of a Country Nurse on a Scottish Isle
---
Tired of the pace and noise of life near London and longing for a better place to raise their young children, Mary J. MacLeod (known to all as Julia) and her husband encountered their dream while vacationing on a remote island in the Scottish Hebrides. Enthralled by its windswept beauty, they soon were the proud owners of a near-derelict croft house—a farmer's stone cottage—on "a small acre" of land. Mary assumed duties as the island's district nurse. Call the Nurse is her account of the first enchanted years she and her family spent there, coming to know its folk as both patients and friends.
31. Nurse Mason Jar
---
This beautifully designed mason jar includes a screw-on lid and a straw. Great for hot and cold beverages!
32. Nursing Clipboard
---
We all know how important it is for nurses to take notes. This pink nursing clipboard will be a perfect gift for your friend. It has a handy storage area where they can put their belongings. It also has a smooth writing surface and features a premium low-profile clip that holds up to 1/2″ of paper securely
33. Keep Calm and Nurse On
---
Want something funny and memorable? We are all familiar with keep calm and carry on but why not buy a mug that says keep calm and nurse on? It is a perfect gift for a nurse this holiday season.
34. Please Do Not Disturb: Nurse Sleeping
---
We all know how much nurses work and how often they don't sleep. This sign may give your giftee a 0.01% chance to get more sleep. But hey, it's still worth it!
35. Nurses 2017 Day-to-Day Calendar
---
Each page greets them with an amusing anecdote, uplifting quote, funny joke, or other entertaining medical tale, providing a well-deserved mini-mental-health break.
36. The Nurses: A Year of Secrets, Drama, and Miracles with the Heroes of the Hospital
---
Nurses is the compelling story of the year in the life of four nurses, and the drama, unsung heroism, and unique sisterhood of nursing—one of the world's most important professions (nurses save lives every day), and one of the world's most dangerous, filled with violence, trauma, and PTSD. This is one of my favorite nursing books!
37. 3M Littmann Classic Stethoscope
---
This is one of the best Stethoscopes available for nurses according to The Nerdy Nurse. It's cheap and does its job well and comes with a variety of colors.
38.Nurse Bookmark Metal with Nurses Hat Charm
---
A sterling bookmark for nurses. Doubles as a nurse bling too!
39. Stick Nurse Tote Bag
---
A water-resistant bag perfect for nurses who carry a lot of stuff and a sucker for cute things.
40. Chantilly Lane Singing Bear
---
A female bear in scrubs that sings "I'll Be There."
41. ScrubCheats 50 Laminated Nursing Reference Cards
---
These are amazing handy references from our friends at NRSG.com. Makes the perfect gift for nurses and medical professionals, nursing students, medical students, and residents. Take the most important CLINICAL knowledge with you on the floor. Quick reference sheets. Beautiful printing.
42. HawthoRNe
---
I recommend this gift for student nurses who want to be inspired in becoming a nurse!
Buy Season 1 at Amazon (Season 2, Season 3)
43. Abbey Press Nurse Travel Tumbler
---
Great gift for family, friends or that special someone!
44. Nurse Mates Women's Compression Trouser Sock
---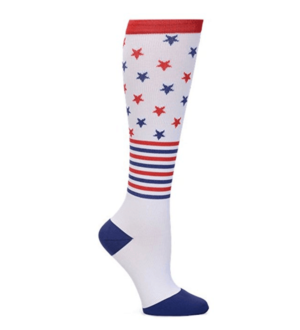 With all the standing and running, nurses need these!
45. First Year Nurse: Wisdom, Warnings, and What I Wish I'd Known My First 100 Days on the Job
---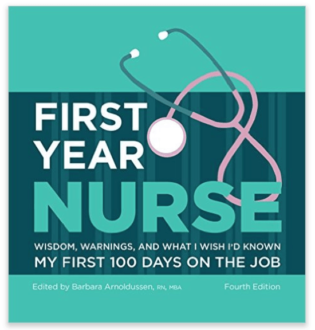 Your first 100 days at a new job could be daunting—unless you go in prepared. First Year Nurse places the wisdom and warnings of hundreds of experienced nurses right at your fingertips. You'll learn all about how to start off on the right foot, plan and prioritize, communicate with your colleagues, cope with challenging patients, keep your energy up (and stress down), and set a course for professional growth. Best of all, you'll be inspired by the compassion, insight, and enthusiasm you'll find on every page of this charming, helpful book.
46. Nurse Cross with Nurse's Prayer
---
This Nurse's Prayer Cross is made of fine polystone for a hand-carved stone look. Nurse's prayer reads: God, grant me the compassion to give patient, loving care, To help the sick and injured, and bring comfort to despair. At the end of every busy day, as I lay my head to rest, Please give me peace within my heart to know I've done my best.
Buy at Amazon 
There are many nurse ideas that will make your special someone special. The list above will definitely help you find something that is funny and memorable gift for your nurse.
[amazon bestseller="nurses" items="10″]
Updated as of December 2018. 
Last updated on