Hypothyroidism is a common endocrine disorder that can have a significant impact on a patient's health. As a nurse, you play a crucial role in managing this condition and improving patient outcomes. With these nursing care plans, you'll be better equipped to provide effective care for Hypothyroidism patients.
What is Hypothyroidism?
Hypothyroidism is a condition classified by an under-active thyroid gland- when the thyroid does not produce enough hormones. It occurs primarily in women between 30 to 60 years old. If severe hypothyroidism occurs in an infant, it is called cretinism. If it developed in an adult, it is called myxedema. The most common cause of hypothyroidism is an autoimmune inflammation of the thyroid gland (Hashimoto's thyroiditis) with resulting atrophy of glandular tissue. Hypothyroidism also commonly occurs in clients with previous hyperthyroidism that has been treated with radioiodine or antithyroid medications or thyroidectomy.
Nursing Care Plans
The nursing care plan for clients with hypothyroidism includes providing information about disease process/prognosis and therapy needs, guiding the client to meet their nutritional requirement, planning activities with a rest period, and preventing complications.
Here are three (3) nursing care plans (NCP) and nursing diagnosis for patients with hypothyroidism:
Imbalanced Nutrition: More Than Body Requirements
Patients with hypothyroidism have a slower metabolic rate, which can lead to weight gain and a higher caloric intake than necessary. This results in imbalanced nutrition, where the body is receiving more nutrients than it needs, leading to potential health complications such as obesity, high blood pressure, and elevated cholesterol levels. Nursing care plans for hypothyroidism patients aim to address this imbalance through dietary interventions and monitoring of nutritional status.
Nursing Diagnosis
May be related to
Greater intake than metabolic needs.
Possibly evidenced by
Decreased appetite.
Sedentary activity level.
Weight gain.
Desired Outcomes
The client will maintain a stable weight and takes in necessary nutrients.
Nursing Assessment and Rationale
1. Assess the client's weight.
Due to excess fluid volume and low basal metabolic rate, clients with hypothyroidism experience weight gain and difficulty losing extra weight
2. Assess the client's appetite.
Clients with hypothyroidism have decreased appetite. This opposite relationship between weight gain and decreased appetite is a manifestation finding in hypothyroidism.
3. Provide a food diary to the client.
Looking into the client's food intake over the 24 hours will provide baseline data for an individualized nutritional plan for the client's changing metabolic needs.
Nursing Interventions and Rationales
1. Educate the client and family regarding body weight changes in hypothyroidism.
Teaching the client and family will make them understand the opposite relationship between appetite and weight gain in hypothyroidism. During the start of thyroid hormone replacement therapy, the client can experience loss of weight. However, there will be an increase in appetite. This change may require a calorie-controlled diet to prevent additional weight gain.
2. Collaborate with a dietician to determine client's caloric needs.
The dietician can calculate the appropriate caloric requirements to maintain nutrient intake and achieve a stable weight.
3. Encourage the client to eat six small meals throughout the day.
This will make sure that the client has an adequate intake of nutrients in the client with decreased energy levels.
4. Provide assistance and encouragement as needed during mealtime.
Due to a decrease in energy levels, the client will need support to ensure an adequate intake of essential nutrients.
5. Encourage the intake of foods rich in fiber.
Hypothyroidism slows the action of the digestive tract causing constipation.
6. Encourage the client to follow a low-cholesterol, low-calorie, low-saturated-fat diet.
When thyroid hormone levels are low, the body doesn't break down and remove bad cholesterol as efficiently as usual; Also, since the client has a slow metabolism, he/she requires fewer calories to support the metabolic need
Recommended Resources
Recommended nursing diagnosis and nursing care plan books and resources.
Disclosure: Included below are affiliate links from Amazon at no additional cost from you. We may earn a small commission from your purchase. For more information, check out our privacy policy.
Ackley and Ladwig's Nursing Diagnosis Handbook: An Evidence-Based Guide to Planning Care
We love this book because of its evidence-based approach to nursing interventions. This care plan handbook uses an easy, three-step system to guide you through client assessment, nursing diagnosis, and care planning. Includes step-by-step instructions showing how to implement care and evaluate outcomes, and help you build skills in diagnostic reasoning and critical thinking.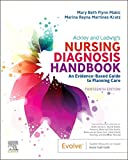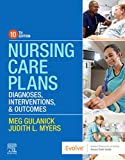 NANDA International Nursing Diagnoses: Definitions & Classification, 2021-2023
The definitive guide to nursing diagnoses is reviewed and approved by NANDA International. In this new version of a pioneering text, all introductory chapters have been rewritten to provide nurses with the essential information they need to comprehend assessment, its relationship to diagnosis and clinical reasoning, and the purpose and application of taxonomic organization at the bedside. A total of 46 new nursing diagnoses and 67 amended nursing diagnostics are presented.
Nurse's Pocket Guide: Diagnoses, Prioritized Interventions, and Rationales
Quick-reference tool includes all you need to identify the correct diagnoses for efficient patient care planning. The sixteenth edition includes the most recent nursing diagnoses and interventions from NANDA-I 2021-2023 and an alphabetized listing of nursing diagnoses covering more than 400 disorders.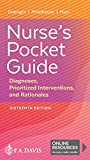 Nursing Diagnosis Manual: Planning, Individualizing, and Documenting Client Care 
Identify interventions to plan, individualize, and document care for more than 800 diseases and disorders. Only in the Nursing Diagnosis Manual will you find for each diagnosis subjectively and objectively – sample clinical applications, prioritized action/interventions with rationales – a documentation section, and much more!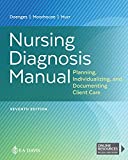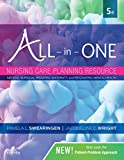 See also
Other recommended site resources for this nursing care plan:
Other nursing care plans related to endocrine system and metabolism disorders: