In this article, we will delve into the details of thyroidectomy, including the preoperative preparation, the procedure itself, and postoperative care for patients. With a comprehensive understanding of these aspects, nurses can effectively care for patients who undergo thyroidectomy and ensure a smooth recovery.
Learn about thyroidectomy nursing care plans and nursing diagnosis, including what it entails, key considerations for nursing care, and frequently asked questions about the process.
What is Thyroidectomy?
Thyroidectomy, although rare, may be performed for patients with thyroid cancer, hyperthyroidism, and drug reactions to antithyroid agents; pregnant women who cannot be managed with drugs; patients who do not want radiation therapy; and patients with large goiters who do not respond to anti-thyroid drugs.
The two types of thyroidectomy include:
Total thyroidectomy: The gland is removed completely. Usually done in the case of malignancy. Thyroid replacement therapy is necessary for life.
Subtotal thyroidectomy: Up to five-sixths of the gland is removed when antithyroid drugs do not correct hyperthyroidism or RAI therapy is contraindicated.
Nursing Care Plans
Thyroidectomy requires meticulous postoperative nursing care to prevent complications. Nursing priorities will include managing hyperthyroid state preoperatively, relieving pain, providing information about the surgical procedure, prognosis, and treatment needs, and preventing complications.
Here are five (5) nursing care plans and nursing diagnoses for thyroidectomy:
Acute Pain
Nursing Diagnosis
May be related to
Surgical interruption/manipulation of tissues/muscles
Postoperative edema
Possibly evidenced by
Reports of pain
Narrowed focus; guarding behavior; restlessness
Autonomic responses
Desired Outcomes
The client will report relief or control of pain.
The client will demonstrate the use of relaxation skills and diversional activities appropriate to the situation.
Nursing Assessment and Rationales
1. Assess verbal and nonverbal reports of pain, noting location, intensity (0–10 scale), and duration.
Useful in evaluating pain, choice of interventions, and the effectiveness of therapy.
Nursing Interventions and Rationales
1. Place in semi-Fowler's position and support head and neck with sandbags or small pillows.
Prevents hyperextension of the neck and protects the integrity of the suture line.
2. Maintain head and neck in a neutral position and support during position changes. Instruct patient to use hands to support the neck during movement and to avoid hyperextension of the neck.
Prevents stress on the suture line and reduces muscle tension.
3. Keep call bell and frequently needed items within easy reach.
Limits stretching, and muscle strain in the operative area.
4. Give cool liquids or soft foods, such as ice cream or popsicles.
Although both may be soothing to sore throat, soft foods may be tolerated better than liquids if the patient experiences difficulty swallowing.
5. Encourage the patient to use relaxation techniques: guided imagery, soft music, and progressive relaxation.
Help refocus attention and assist the patient to manage pain and/or discomfort more effectively.
6. Administer analgesics and/or analgesic throat sprays and lozenges as necessary.
Reduces pain and discomfort; enhance rest.
7. Provide an ice collar if indicated.
Reduces tissue edema and decreases the perception of pain.
Recommended Resources
Recommended nursing diagnosis and nursing care plan books and resources.
Disclosure: Included below are affiliate links from Amazon at no additional cost from you. We may earn a small commission from your purchase. For more information, check out our privacy policy.
Ackley and Ladwig's Nursing Diagnosis Handbook: An Evidence-Based Guide to Planning Care
We love this book because of its evidence-based approach to nursing interventions. This care plan handbook uses an easy, three-step system to guide you through client assessment, nursing diagnosis, and care planning. Includes step-by-step instructions showing how to implement care and evaluate outcomes, and help you build skills in diagnostic reasoning and critical thinking.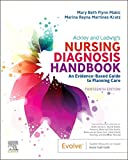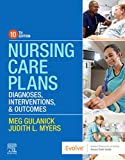 NANDA International Nursing Diagnoses: Definitions & Classification, 2021-2023
The definitive guide to nursing diagnoses is reviewed and approved by NANDA International. In this new version of a pioneering text, all introductory chapters have been rewritten to provide nurses with the essential information they need to comprehend assessment, its relationship to diagnosis and clinical reasoning, and the purpose and application of taxonomic organization at the bedside. A total of 46 new nursing diagnoses and 67 amended nursing diagnostics are presented.
Nurse's Pocket Guide: Diagnoses, Prioritized Interventions, and Rationales
Quick-reference tool includes all you need to identify the correct diagnoses for efficient patient care planning. The sixteenth edition includes the most recent nursing diagnoses and interventions from NANDA-I 2021-2023 and an alphabetized listing of nursing diagnoses covering more than 400 disorders.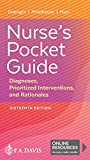 Nursing Diagnosis Manual: Planning, Individualizing, and Documenting Client Care 
Identify interventions to plan, individualize, and document care for more than 800 diseases and disorders. Only in the Nursing Diagnosis Manual will you find for each diagnosis subjectively and objectively – sample clinical applications, prioritized action/interventions with rationales – a documentation section, and much more!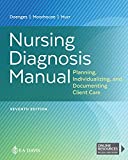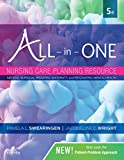 See also
Other recommended site resources for this nursing care plan:
Other nursing care plans related to endocrine system and metabolism disorders: