Prostatectomy is a surgical procedure that involves the removal of the prostate gland. It is a common treatment for prostate cancer and other prostate-related health issues. After the procedure, patients require specialized care to ensure a smooth recovery. Nursing care plans and nursing diagnosis play a crucial role in providing effective care for these patients. In this article, we will discuss the essential aspects of prostatectomy nursing care plans and nursing diagnosis.
What is Prostatectomy?
Prostatectomy is the surgical removal of the prostate wherein the procedure could include all (radical) or part (simple). Prostatectomy is indicated in the treatment of benign prostatic hyperplasia while radical prostatectomy is indicated in the treatment of prostate cancer.
Transurethral resection of the prostate (TURP): Obstructive prostatic tissue of the medial lobe surrounding the urethra is removed by means of a cystoscope/resectoscope introduced through the urethra.
Suprapubic/open prostatectomy: Indicated for masses exceeding 60 g (2 oz). Obstructing prostatic tissue is removed through a low midline incision made through the bladder. This approach is preferred if bladder stones are present.
Retropubic prostatectomy: Hypertrophied prostatic tissue mass (located high in the pelvic region) is removed through a low abdominal incision without opening the bladder. This approach may be used if the tumor is limited.
Perineal prostatectomy: Large prostatic masses low in the pelvic area are removed through an incision between the scrotum and the rectum. This more radical procedure is done for larger tumors/presence of nerve invasion and may result in impotence.
Nursing Care Plans
Nursing care planning for patients who underwent prostatectomy includes: maintaining homeostasis and hemodynamic stability, promoting comfort, preventing complications, and providing information about the procedure, prognosis, and treatment.
Here are six (6) nursing care plans (NCP) and nursing care plan for prostatectomy:
Impaired Urinary Elimination
Prostatectomy involves the removal of part or all of the prostate gland, which can lead to impaired urinary elimination due to the disruption of the normal urinary tract anatomy and the possible damage or irritation to the surrounding tissues during surgery. This can result in difficulty with starting or stopping the flow of urine, urinary urgency or frequency, and other urinary problems.
Nursing Diagnosis
Impaired Urinary Elimination
May be related to
Mechanical obstruction: blood clots, edema, trauma, surgical procedure
Pressure and irritation of catheter/balloon
Loss of bladder tone due to preoperative overdistension or continued decompression
Possibly evidenced by
Frequency, urgency, hesitancy, dysuria, incontinence, retention
Bladder fullness; suprapubic discomfort
Desired Outcomes
The patient will void normal amounts without retention.
The patient will demonstrate behaviors to regain bladder/urinary control.
Nursing Assessment and Rationale
1. During bladder irrigation, assess urine output and drainage system.
Retention can occur because of edema of the surgical area, blood clots, and bladder spasms.
Nursing Interventions and Rationales
1. Assist patient to assume normal position when voiding. Instruct to stand, and walk to the bathroom at frequent intervals after catheter is removed.
Promotes sense of normality and encourages passage of urine.
2. Regularly check the dressing, incision, and drainage for excessive bleeding. Watch out for signs of bleeding and infection.
Reopening of sutures can occur.
3. Record time, amount of voiding, and size of stream after catheter is removed. Note reports of bladder fullness, inability to void, and urgency.
The catheter is usually removed 2–5 days after surgery, but voiding may continue to be a problem for some time because of urethral edema and loss of bladder tone.
4. Encourage patient to void when urge is noted but not more than every 2–4 hr per protocol.
Voiding with urge prevents urinary retention. Limiting voids to every 4 hr (if tolerated) increases bladder tone and aids in bladder retraining.
5. Measure residual volumes via suprapubic catheter, if present, or with Doppler ultrasound.
Monitors effectiveness of bladder emptying. Residuals of more than 50 mL suggest need for continuation of catheter until bladder tone improves.
6. Encourage fluid intake to 3000 mL as tolerated. Limit fluids in the evening, once catheter is removed.
Maintains adequate hydration and renal perfusion for urinary flow. Reducing fluid intake at the right schedule decreases the need to void and interrupt sleep during the night.
7. Instruct patient to perform perineal exercises: tightening buttocks, stopping, and starting urine stream.
Helps regain control of the bladder, sphincter, or urinary control and minimizes incontinence.
8. Advise patient that "dribbling" is to be expected after catheter is removed and should resolve as recuperation progresses.
Information helps patient deal with the problem. Normal functioning may return in 2–3 wk but can take up to 8 mo following perineal approach.
9. Maintain continuous bladder irrigation (CBI), as indicated, in early postoperative period.
Flushes bladder of blood clots and debris to maintain patency of the catheter and urine flow.
Recommended Resources
Recommended nursing diagnosis and nursing care plan books and resources.
Disclosure: Included below are affiliate links from Amazon at no additional cost from you. We may earn a small commission from your purchase. For more information, check out our privacy policy.
Ackley and Ladwig's Nursing Diagnosis Handbook: An Evidence-Based Guide to Planning Care
We love this book because of its evidence-based approach to nursing interventions. This care plan handbook uses an easy, three-step system to guide you through client assessment, nursing diagnosis, and care planning. Includes step-by-step instructions showing how to implement care and evaluate outcomes, and help you build skills in diagnostic reasoning and critical thinking.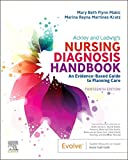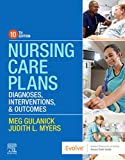 NANDA International Nursing Diagnoses: Definitions & Classification, 2021-2023
The definitive guide to nursing diagnoses is reviewed and approved by the NANDA International. In this new version of a pioneering text, all introductory chapters have been rewritten to provide nurses with the essential information they need to comprehend assessment, its relationship to diagnosis and clinical reasoning, and the purpose and application of taxonomic organization at the bedside. A total of 46 new nursing diagnoses and 67 amended nursing diagnostics are presented.
Nurse's Pocket Guide: Diagnoses, Prioritized Interventions, and Rationales
Quick-reference tool includes all you need to identify the correct diagnoses for efficient patient care planning. The sixteenth edition includes the most recent nursing diagnoses and interventions from NANDA-I 2021-2023 and an alphabetized listing of nursing diagnoses covering more than 400 disorders.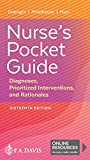 Nursing Diagnosis Manual: Planning, Individualizing, and Documenting Client Care
Identify interventions to plan, individualize, and document care for more than 800 diseases and disorders. Only in the Nursing Diagnosis Manual will you find for each diagnosis…. subjectively and objectively – sample clinical applications, prioritized action/interventions with rationales – a documentation section, and much more!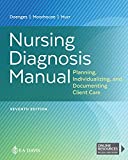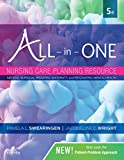 See also
Other recommended site resources for this nursing care plan:
Other care plans and nursing diagnoses related to reproductive and urinary system disorders: