Enhance your understanding of mastectomy nursing care with our comprehensive guide. Get insights on nursing diagnosis, care plans, and nursing interventions for mastectomy.
What is Mastectomy?
Mastectomy is the surgical removal of one or both breasts either partially or completely. A mastectomy is usually carried out to treat or prevent breast cancer. Surgical management for patients with breast cancer usually involves lumpectomy or mastectomy. In many cases, radiation therapy is combined with surgery.
Types of breast surgery include:
Total (simple) mastectomy – removal of breast tissue and nipple
Modified radical mastectomy – removal of the breast, most of the lymph nodes under the arm, and often the lining over the chest muscles
Lumpectomy – surgery to remove the tumor and a small amount of normal tissue around it
Nursing Care Plans
Providing perioperative nursing care for patients who are to undergo Mastectomy is an integral part of the therapeutic regimen. The nursing goal is to provide support, alleviate anxiety, manage pain, and provide information.
Here are 15+ nursing care plans (NCP) and nursing diagnoses for a patient undergoing Mastectomy:
Fear/Anxiety
Nursing Diagnosis
May be related to
The threat of death, e.g., the extent of disease
Threat to self-concept: change of body image; scarring, loss of body part, sexual attractiveness
Change in health status
Possibly evidenced by
Increased tension; apprehension; feelings of helplessness/inadequacy
Decreased self-assurance
Self-focus; restlessness; sympathetic stimulation
Expressed concerns regarding actual/anticipated changes in life
Desired Outcomes
The client will acknowledge and discuss concerns.
The client will demonstrate an appropriate range of feelings.
The client will report fear and anxiety are reduced to a manageable level.
Nursing Assessment and Rationales
1. Check out and explore what information the patient has about diagnosis, expected surgical intervention, and future therapies. Note the presence of denial or extreme anxiety.
Provides a knowledge base for the nurse to enable the reinforcement of needed information, and helps identify patients with high anxiety, low capacity for information processing, and need for special attention. Note: Denial may be useful as a coping method for a time, but extreme anxiety needs to be dealt with immediately.
2. Ascertain the purpose and preparation for diagnostic tests.
More understanding of procedures and what is happening increases feelings of control and lessens anxiety.
Nursing Interventions and Rationales
1. Implement an ambiance of concern, openness, and availability, as well as privacy for patients and SO. Suggest that SO be present as much as possible.
Time and privacy are needed to provide support, and discuss feelings of anticipated loss and other concerns. Therapeutic communication skills, open questions, listening, and so forth facilitate this process.
2. Encourage questions and provide time for the expression of fears. Tell the patient that stress related to breast cancer can persist for many months and to seek help and support.
Provides an opportunity to identify and clarify misconceptions and offer emotional support.
3. Determine the degree of support available to the patient. Give information about community resources, such as Reach to Recovery, and the YWCA Encore program. Encourage and provide for a visit with a woman who has recovered from a mastectomy.
Can be a helpful resource when the patient is ready. A peer who has experienced the same process serves as a role model and can provide validity to the comments, hope for recovery, and a normal future.
4. Consider the role of rehabilitation after surgery.
Rehabilitation is an essential component of therapy intended to meet physical, social, emotional, and vocational needs so that the patient can achieve the best possible level of physical and emotional functioning.
Recommended Resources
Recommended nursing diagnosis and nursing care plan books and resources.
Disclosure: Included below are affiliate links from Amazon at no additional cost from you. We may earn a small commission from your purchase. For more information, check out our privacy policy.
Ackley and Ladwig's Nursing Diagnosis Handbook: An Evidence-Based Guide to Planning Care
We love this book because of its evidence-based approach to nursing interventions. This care plan handbook uses an easy, three-step system to guide you through client assessment, nursing diagnosis, and care planning. Includes step-by-step instructions showing how to implement care and evaluate outcomes, and help you build skills in diagnostic reasoning and critical thinking.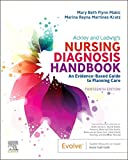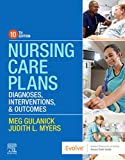 NANDA International Nursing Diagnoses: Definitions & Classification, 2021-2023
The definitive guide to nursing diagnoses is reviewed and approved by the NANDA International. In this new version of a pioneering text, all introductory chapters have been rewritten to provide nurses with the essential information they need to comprehend assessment, its relationship to diagnosis and clinical reasoning, and the purpose and application of taxonomic organization at the bedside. A total of 46 new nursing diagnoses and 67 amended nursing diagnostics are presented.
Nurse's Pocket Guide: Diagnoses, Prioritized Interventions, and Rationales
Quick-reference tool includes all you need to identify the correct diagnoses for efficient patient care planning. The sixteenth edition includes the most recent nursing diagnoses and interventions from NANDA-I 2021-2023 and an alphabetized listing of nursing diagnoses covering more than 400 disorders.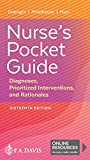 Nursing Diagnosis Manual: Planning, Individualizing, and Documenting Client Care
Identify interventions to plan, individualize, and document care for more than 800 diseases and disorders. Only in the Nursing Diagnosis Manual will you find for each diagnosis…. subjectively and objectively – sample clinical applications, prioritized action/interventions with rationales – a documentation section, and much more!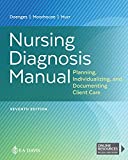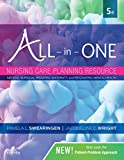 See also
Other recommended site resources for this nursing care plan:
Other care plans and nursing diagnoses related to reproductive and urinary system disorders: