Substance dependence is a growing health problem in clients of childbearing age, so its incidence during pregnancy is also increasing. The number of women who use illicit substances during pregnancy is unknown, but as many as 375,000 infants may be affected yearly. As many as 10% to 20% of pregnant women admit to using illicit substances during pregnancy. Adolescents have an increased rate of inhalant abuse and binge drinking.
Substance use during pregnancy involves a phase of a group of behavioral, cognitive, and physiological symptoms such as the inability to control drug abuse and repetitive use of the substance in spite of adverse maternal and fetal effects. These consequences include poor nutrition/weight gain, anemia, predisposition to infection, pregnancy-induced hypertension, low birth weight, intrauterine growth restriction, and fetal alcohol syndrome (FAS). The drugs most commonly abused are nicotine, alcohol, marijuana, heroin, phencyclidine (PCP), opiates, cocaine, and methamphetamine. Treatment depends on the degree of abuse and whether the client is addicted or is in the withdrawal phase. The client who is intoxicated may not seek care during the prenatal period, compounding any existing or developing problems. In addition, negative attitudes on the part of society and often from caregivers affect the pregnant woman and her care. A return to health consists of gaining mastery and control over self and environment, and pleasure-seeking that does not require the use of drugs.
Nursing Care Plans
Nursing care plan goals for a pregnant client experiencing substance abuse may include promoting physiological stability and well-being of mother and fetus, supporting the client's acceptance of the reality of the situation, facilitating learning of new ways to decrease anxiety, strengthening individual coping skills, incorporating client into supportive community environment, promoting family involvement in the treatment process and providing information about the condition, prognosis, and treatment needs.
Here are nine (9) nursing care plans (NCP) and nursing diagnoses for prenatal substance abuse
Imbalanced Nutrition: Less Than Body Requirements
Many women with substance dependency come late in their pregnancy for prenatal care because they are worried their substance use will be discovered and they will be reported to the authorities. She may have difficulty following prenatal instructions for proper nutrition because, although she may desire to eat well, if she only has enough money to buy either drugs or food, she may choose drugs over food. She may not have money for supplemental vitamins or iron preparations for the same reason.
Nursing Diagnosis
Imbalanced Nutrition: Less Than Body Requirements
May be related to
Inadequate dietary consumption in fulfilling metabolic needs for physiological, psychological, or economic purposes
Possibly evidenced by
Decreased subcutaneous fat/muscle mass
Lack of appetite and loss of interest in food
Below maternal pre-pregnant weight
Protein and vitamin deficiencies
Reported altered taste sensation
Sore, inflamed buccal cavity
Weak muscle tone
Desired Outcomes
The client will verbalize understanding of the effects of substance dependence and insufficient dietary intake on the nutritional status and pregnancy.
The client will demonstrate behaviors and lifestyle changes to regain/maintain an appropriate weight for pregnancy.
The client will demonstrate progressive weight gain toward a goal, with normalization of laboratory values and absence of signs of malnutrition.
Nursing Assessments and Rationales
1. Assess the condition of the oral cavity. Note and record age, height/weight, body build, strength, and activity/rest pattern.
This guides the formation of the dietary plan. The condition of mucous membranes and teeth may be affected by the type of food intake. Methamphetamine users describe their teeth as 'blackened, stained, rotting, crumbling, or falling apart. Poor oral hygiene, high intake of refined carbohydrates, and increased acidity in the oral cavity from oral intake of amphetamine, GI regurgitation, or vomiting also lead to an increased number and severity of carious lesions in clients who abuse methamphetamine (Hamamoto & Rhodus, 2008).
2. Determine anthropometric measurements such as BMI, waist-to-hip ratio, skin-fold test, and bioelectrical impedance.
This measures subcutaneous fat and muscle mass to help in planning dietary needs. The majority of clients who abuse drugs present below-normal BMI, biochemical values, and clinical signs of nutrient deficiency because of the consumption of poor quality nutrient-deficient foods. It was found that pregnant women addicted to methamphetamine had smaller biceps skinfold thickness, a measure of body fat, and they had significantly lower BMI compared to non-addicted pregnant women (Sebastiani et al., 2018).
3. Note total daily calorie intake. Encourage the client to keep a journal of intake, frequency, and patterns of eating.
Information about the client's dietary pattern will determine nutritional strengths, needs, and insufficiencies. Metabolic problems are often associated with heroin, cocaine, and ecstasy drug although they produce a variety of medical problems. Heroin addicts consume less than the minimum daily quantity of vegetables, fruits, and grains recommended by the food pyramid and eat more portions of sweets (Sebastiani et al., 2018).
4. Assess energy expenditure (such as pregnancy needs, pacing, or sedentary activities).
Pregnant state and activity level affect nutritional needs. Prenatal exposure to methamphetamine was associated with neurobehavioral patterns of decreased arousal, increased stress, and poor quality of movement in a dose-dependent manner. Chronic abuse of methamphetamine alters the activity of the dopamine system in the brain leading to reduced motor function that can lead to significant social, occupational, and medical impairments (Hamamoto & Rhodus, 2008).
5. Note and record the client's weight weekly.
This provides information regarding the current status or effectiveness of the dietary plan. Cocaine acts as an appetite suppressant that tends to reduce body weight due to its anorexigenic effect (Sebastiani et al., 2018).
Nursing Interventions and Rationales
1. Review and discuss prenatal nutritional needs and develop a dietary plan.
The use of illicit drugs suppresses appetite and affects food habits leading drug-dependent clients to crave 'empty-energy', potentially nutrient-deficient foods that cause micronutrient deficiency. The carbohydrate-metabolism health problems could be reversed by increasing the dietary intake of protein and reducing simple carbohydrates in the form of vegetables and whole grains (Sebastiani et al., 2018).
2. Assist with developing a grocery budget and provide an opportunity to select food items to meet dietary plans.
This facilitates involvement in the plan and resolves nutritional deficiencies. Nutrition is a protective factor against alcohol and drug abuse teratogenicity. Recent research is focusing on nutritional intervention in order to reverse the detrimental effects of alcohol and drug abuse on the nutritional status of the mother. Some experimental studies suggest treating women with minerals and antioxidants (like vitamin E or C) in order to substitute the nutritional deficits described in substance-dependent mothers and to protect the fetus (Sebastiani et al., 2018).
3. Set an individualized exercise program.
Exercise improves muscle tone, may promote appetite, and raises a sense of well-being. Available evidence indicates moderate-to-vigorous intensity exercise may improve substance use disorder (SUD) abstinence rates and anxiety/depressive symptoms across multiple SUDs. Exercise may be an effective adjunct treatment for those with substance use disorders in terms of abstinence and withdrawal and also improves mood (Ashdown-Franks et al., 2019).
4. Promote intake of essential micronutrients and multivitamins.
Micronutrient supplementation would in part reverse the toxic effect of alcohol and drugs on fetal neurological development, although it is difficult to establish the optimal range of micronutrients during pregnancy. Nutrients such as choline, vitamin E, betaine, folic acid, methionine, and zinc can attenuate alcohol-induced changes to the epigenome and oxidative damage (Sebastiani et al., 2018).
5. Collaborate with a dietitian.
This helps in establishing individual dietary needs and provides an additional resource for learning about the importance of nutrition in nonpregnant and pregnant states. A partnership should be created with the client, and a plan for compromises and treatment should be developed. Dietary support, monitoring of the client's weight gain, and fetal assessment promote better pregnancy outcomes.
6. Review laboratory studies as indicated such as glucose, serum albumin, and electrolytes.
This may reveal electrolyte imbalances, anemia, and other abnormalities that may be present, requiring specific therapy. Studies about opiate addiction disorders showed extreme nutritional deficiencies of key proteins, fats, vitamins, and minerals like zinc, iron, calcium, chromium, magnesium, potassium, and other essential nutrients. The use of heroin has been implicated in blood sugar disorders with different mechanisms. Fasting insulin levels were found to be four times higher in heroin addicts than in control subjects and insulin resistance caused by opioid use may be coupled with beta-cell dysfunction (Sebastiani et al., 2018).
7. Educate the client about outreach and food assistance programs.
Management of pregnant substance abusers must address the needs of poorly nourished, homeless, and/or incarcerated pregnant substance dependents. In addition to education about nutrition and weight gain, some of these women may need a referral to food assistance programs and shelters, and the provision of transportation vouchers and prenatal multivitamins (Sebastiani et al., 2018).
8. Assist client in consultation with a dentist as necessary.
Healthy teeth are important in having a good nutritional intake, and dental hygiene is often overlooked in this population. Dental management for a client who abuses drugs is always a challenge. Dentists need to be aware of the clinical presentation and medical risks presented by these clients and attempt to get the client to seek professional help (Hamamoto & Rhodus, 2008).
Recommended Resources
Recommended nursing diagnosis and nursing care plan books and resources.
Disclosure: Included below are affiliate links from Amazon at no additional cost from you. We may earn a small commission from your purchase. For more information, check out our privacy policy.
Ackley and Ladwig's Nursing Diagnosis Handbook: An Evidence-Based Guide to Planning Care
We love this book because of its evidence-based approach to nursing interventions. This care plan handbook uses an easy, three-step system to guide you through client assessment, nursing diagnosis, and care planning. Includes step-by-step instructions showing how to implement care and evaluate outcomes, and help you build skills in diagnostic reasoning and critical thinking.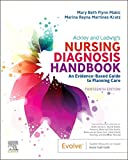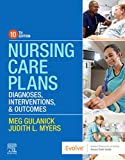 NANDA International Nursing Diagnoses: Definitions & Classification, 2021-2023
The definitive guide to nursing diagnoses is reviewed and approved by the NANDA International. In this new version of a pioneering text, all introductory chapters have been rewritten to provide nurses with the essential information they need to comprehend assessment, its relationship to diagnosis and clinical reasoning, and the purpose and application of taxonomic organization at the bedside. A total of 46 new nursing diagnoses and 67 amended nursing diagnostics are presented.
Nurse's Pocket Guide: Diagnoses, Prioritized Interventions, and Rationales
Quick-reference tool includes all you need to identify the correct diagnoses for efficient patient care planning. The sixteenth edition includes the most recent nursing diagnoses and interventions from NANDA-I 2021-2023 and an alphabetized listing of nursing diagnoses covering more than 400 disorders.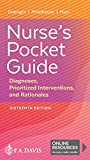 Nursing Diagnosis Manual: Planning, Individualizing, and Documenting Client Care
Identify interventions to plan, individualize, and document care for more than 800 diseases and disorders. Only in the Nursing Diagnosis Manual will you find for each diagnosis…. subjectively and objectively – sample clinical applications, prioritized action/interventions with rationales – a documentation section, and much more!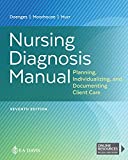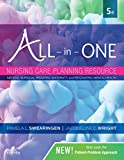 See Also
Other recommended site resources for this nursing care plan:
Other care plans related to the care of the pregnant mother and her baby:
References and Sources
Recommended journals, books, and other interesting materials to help you learn more about prenatal substance abuse nursing care plans and nursing diagnosis:
Ashdown-Franks, G., Firth, J., Carney, R., Carvalho, A. F., Hallgren, M., Koyanagi, A., Rosenbaum, S., Schuch, F. B., Smith, L., Solmi, M., Vancampfort, D., & Stubbs, B. (2019, September 20). Exercise as Medicine for Mental and Substance Use Disorders: A Meta-review of the Benefits for Neuropsychiatric and Cognitive Outcomes. Sports Medicine, 50, 151-170.
Baquiran, M., & Al Khalili, Y. (2022, April 28). Lysergic Acid Diethylamide Toxicity – StatPearls. NCBI. Retrieved June 28, 2022.
Crawford, A. D., McGlothen-Bell, K., Recto, P., McGrath, J. M., Scott, L., Brownell, E. A., & Cleveland, L. M. (2022, June). Stigmatization of Pregnant Individuals with Opioid Use Disorder. Women's Health Reports, 3(1), 172-179.
Daley, D. C. (2013, December). Family and social aspects of substance use disorders and treatment. Journal of Food and Drug Analysis, 21(4), 573-576.
Daley, D. C., Smith, E., Balogh, D., & Toscaloni, J. (2018, June 25). Forgotten but Not Gone: The Impact of the Opioid Epidemic and Other Substance Use Disorders on Families and Children. Commonwealth: A Journal of Pennsylvania Politics and Policy, 20(2-3).
Durrani, M., & Bansal, K. (2022, February 12). Methadone – StatPearls. NCBI. Retrieved June 25, 2022.
Frazer, Z., McConnell, K., & Jansson, L. M. (2019, December 1). Treatment for substance use disorders in pregnant women: Motivators and barriers. Drug and Alcohol Dependence, 205.
Gopman, S. (2014, June 1). Prenatal and Postpartum Care of Women with Substance Use Disorders. Obstetrics and Gynecology Clinics, 41(2), 213-228. https://doi.org/10.1016/j.ogc.2014.02.004
Govender, D., Naidoo, S., & Taylor, M. (2019, July 11). Knowledge, attitudes, and peer influences related to pregnancy, sexual and reproductive health among adolescents using maternal health services in Ugu, KwaZulu-Natal, South Africa. BMC Public Health, 19(928).
Hamamoto, D., & Rhodus, N. (2008, December 10). Methamphetamine abuse and dentistry. Oral Diseases, 15(1), 27-37.
Hang Hai, A., Franklin, C., Park, S., DiNitto, D. M., & Aurelio, N. (2019, September 1). The efficacy of spiritual/religious interventions for substance use problems: A systematic review and meta-analysis of randomized controlled trials. Drug and Alcohol Dependence, 202, 134-148.
Hatfield, N. T. (2008). Broadribb's Introductory Pediatric Nursing. Lippincott Williams & Wilkins.
Howard, M., McMillen, C., Nower, L., Elze, D., Edmond, T., & Bricout, J. (2011, September 06). Denial in Addiction: Toward an Integrated Stage and Process Model—Qualitative Findings. Journal of Psychoactive Drugs, 34(4), 371-382.
Latuskie, K. A., Andrews, N. C.Z., Motz, M., Leibson, T., Austin, Z., Ito, S., & Pepler, D. J. (2019, February). Reasons for substance use continuation and discontinuation during pregnancy: A qualitative study. Women and Birth, 32(1), e57-e64.
Leifer, G. (2018). Introduction to Maternity and Pediatric Nursing. Elsevier.
Lewis, C. B., & Adams, N. (2022, January 17). Phenobarbital – StatPearls. NCBI. Retrieved June 25, 2022.
Makic, M. B. F., Ackley, B. J., & Ladwig, G. B. (Eds.). (2017). Nursing Diagnosis Handbook: An Evidence-based Guide to Planning Care. Elsevier.
Mburu, G., Ayon, S., Mahinda, S., & Kaveh, K. (2019, August 04). Determinants of Women's Drug Use During Pregnancy: Perspectives from a Qualitative Study. Maternal and Child Health Journal, 4, 1170-1178.
Moore, K. D., & Moore, J. W. (2012, October 16). Ecological restoration and enabling behavior: a new metaphorical lens? Conservation Letters, 6(1), 1-5.
Moorhouse, M. F., Murr, A. C., & Doenges, M. E. (2010). Nursing Care Plans: Guidelines for Individualizing Client Care Across the Life Span. F.A. Davis Company.
Opsal, A., Kristensen, Ø., & Clausen, T. (2019, November 06). Readiness to change among involuntarily and voluntarily admitted patients with substance use disorders. Substance Abuse Treatment, Prevention, and Policy, 14(47).
Perry, S. E., Cashion, K., Alden, K. R., Lowdermilk, D. L., & Olshansky, E. F. (Eds.). (2015). Maternity and Women's Health Care. Elsevier.
Pillitteri, A., & Silbert-Flagg, J. (2018). Maternal & Child Health Nursing: Care of the Childbearing & Childrearing Family. Wolters Kluwer.
Preis, H., Garry, D. J., Herrera, K., Garretto, D. J., & Lobel, M. (2020, August 05). Improving Assessment, Treatment, and Understanding of Pregnant Women With Opioid Use Disorder: The Importance of Life Context. Women's Reproductive Health, 7(3), 153-163.
Ribadier, A., & Varescon, I. (2019, April 11). Anxiety and depression in alcohol use disorder individuals: the role of personality and coping strategies. Substance Abuse and Misuse, 54(9), 1475-1484.
Ricci, S. S. (2012). Essentials of Maternity, Newborn & Women's Health Nursing, 2nd Ed + PrepU for Ricci's Essentials of Maternity, Newborn and Women's Health Nursing, 2nd Ed. Lippincott Williams & Wilkins.
Sebastiani, G., Borras-Novell, C., Casanova, M. A., Tutusaus, M. P., Martinez, S. F., Roig, M. D. G., & Garcia-Algar, O. (2018, August 2). The Effects of Alcohol and Drugs of Abuse on Maternal Nutritional Profile during Pregnancy. Nutrients, 10(8).
Stiffler, D., Amundson, M., Hapke, L., Harvey, E., Sizemore, S., & Smith, S. (2019). Understanding Pregnant Women with Opioid Use Disorder. Journal of Maternal and Child Health, 4(6), 461-473.
Swearingen, P. L. (2018). All-in-one Nursing Care Planning Resource: Medical-surgical, Pediatric, Maternity, and Psychiatric-mental Health (J. Wright & P. L. Swearingen, Eds.). Elsevier.
Tracy, E. M., Munson, M. R., Peterson, L. T., & Floersch, J. E. (2010, August 19). Social Support: A Mixed Blessing for Women in Substance Abuse Treatment. Journal of Social Work Practice in the Addictions, 10(3), 257-282.
Velez, M. L., Montoya, I. D., Jansson, L. M., Walters, V., Svikis, D., Jones, H. E., Chilcoat, H., & Campbell, J. (2006, January). Exposure to violence among substance-dependent pregnant women and their children. Journal of Substance Abuse Treatment, 10(1), 31-38.
Reviewed and updated by M. Belleza, R.N.