Pressure ulcers, also known as bedsores, are a common problem in the healthcare industry. They occur when an area of the skin is subjected to pressure and is not relieved for a prolonged period of time. This can happen in individuals who are bedridden, use a wheelchair, or have limited mobility. Pressure ulcers can cause significant pain, discomfort, and even lead to serious complications such as infections, sepsis, and even death.
Nursing care plans are essential for the treatment of pressure ulcers. These care plans include a nursing diagnosis, assessment, interventions, and evaluation. In this article, we will discuss the nursing diagnosis for pressure ulcer (bedsores) nursing care plans in detail.
What are Pressure Ulcers?
A pressure ulcer (also known as bedsores or decubitus ulcer) is a localized skin injury where tissues are compressed between bony prominences and hard surfaces such as a mattress. They are caused by pressure in combination with friction, shearing forces, and moisture. The pressure compresses small blood vessels and leads to impaired tissue perfusion. The reduction of blood flow causes tissue hypoxia leading to cellular death.
Nursing Care Plans
Pressure ulcers in stages I through III can be managed with aggressive local wound treatment and proper nutritional support while stage IV pressure ulcers usually require surgical intervention.
Nursing care planning goals for clients experiencing pressure ulcer (bedsores) includes assessing the contributing factors leading to a lack of tissue perfusion, assessing the extent of the injury, promoting compliance with the medication regimen, and preventing further injury.
Here are three (3) nursing care plans (NCP) and nursing diagnoses for pressure ulcers (bedsores):
Risk For Infection
Poor nutritional status can weaken a patient's immune system and reduce their ability to fight off infections, making them more susceptible to infections in open pressure ulcers. Open pressure ulcers create a direct entryway for bacteria and other pathogens to enter the body, increasing the risk of infection. Additionally, the proximity of sacral wounds to the perineum can increase the risk of contamination from fecal matter and other bodily fluids.
Nursing Diagnosis
Risk factors
Poor nutritional status
The proximity of sacral wounds to the perineum
Open pressure ulcer
Possibly evidenced by
Not applicable for risk diagnosis. A risk diagnosis is not evidenced by signs and symptoms, as the problem has not occurred and nursing interventions are directed at prevention.
Desired Outcomes
The client will maintain a normal body temperature.
The client will remain free of local or systemic infections, as evidenced by the absence of copious, foul-smelling wound exudate.
Nursing Assessment and Rationales
1. Assess the client's nutritional status.
Clients who seriously lack nutrition (serum albumin <2.5 mg/dl) are at risk of developing an infection produced by a pressure ulcer. Also, clients with pressure ulcers lose tremendous amounts of protein in wound exudate and may require 4000 kcal/day or more to remain anabolic.
2. Assess the client for unexplained sepsis.
When a septic workup is done, the pressure ulcer must be considered a possible cause.
3. Assess for urinary and fecal incontinence.
Sacral wounds, because of their proximity to the perineum, are at the highest risk for infection caused by urine or fecal contamination. It is sometimes difficult to isolate the wound from the perineal area.
4. Assess pressure ulcers for odor, the color of tissue, and drainage.
Foul smelling pressure ulcer may indicate an infection; Infected tissue usually has a gray-yellow appearance without evidence of pink granulation tissue; The presence of exudate that is clear to straw-colored is normal. While purulent green or yellow drainage in large amounts indicates an infection.
5. Assess the client's temperature.
Fever is considered a temperature above 100.4 degrees F (38 degrees C) indicating the presence of infection unless the client is immunocompromised or diabetic.
6. Monitor the client's white blood cell count (WBC).
Elevated WBC counts indicate an infection, although, in very old individuals, the WBC count may rise only slightly during infection, indicating a diminished marrow reserve.
7. Obtain wound cultures, if indicated.
All pressure ulcers are colonized because skin normally has flora that will be found in an open skin lesion; however, all pressure ulcers are not infected. Infection is present when there is copious, foul-smelling, purulent drainage and the client has other signs of infection (fever, increased pain) and bacteria count greater than 105. Swab cultures are not recommended. Rather, tissue biopsy should be used to quantify and qualify the aerobic and anaerobic organisms present.
Nursing Interventions and Rationales
1. Consult with a dietitian for assistance with a high-protein, high-calorie diet.
A High-calorie, high-protein diet may be recommended to help in healing and fight infection.
2. Provide thorough perineal hygiene after each episode of incontinence.
This can lessen pathogens in the area of sacral pressure ulcers.
3. Provide hydrotherapy, if indicated.
It is used to achieve wound cleansing and promote good circulation.
4. Provide local wound care as prescribed.
The type and level of wound treatment depend on the staging of the ulcer and the type of infection present.
5. Use proper infection control measures, such as hand hygiene and the use of personal protective equipment, when caring for patients with pressure ulcers.
Practicing good hand hygiene and using personal protective equipment can reduce the risk of infection and promote the healing of pressure ulcers. This can also prevent further complications and improve outcomes for the patient.
6. Administer antibiotics as prescribed.
Complicated wounds may develop cellulitis or sepsis, requiring antibiotic therapy. Oral antibiotics or topical silver sulfadiazine can be effective.
Recommended Resources
Recommended nursing diagnosis and nursing care plan books and resources.
Disclosure: Included below are affiliate links from Amazon at no additional cost from you. We may earn a small commission from your purchase. For more information, check out our privacy policy.
Ackley and Ladwig's Nursing Diagnosis Handbook: An Evidence-Based Guide to Planning Care
We love this book because of its evidence-based approach to nursing interventions. This care plan handbook uses an easy, three-step system to guide you through client assessment, nursing diagnosis, and care planning. Includes step-by-step instructions showing how to implement care and evaluate outcomes, and help you build skills in diagnostic reasoning and critical thinking.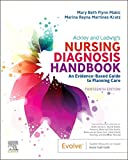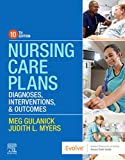 NANDA International Nursing Diagnoses: Definitions & Classification, 2021-2023
The definitive guide to nursing diagnoses is reviewed and approved by the NANDA International. In this new version of a pioneering text, all introductory chapters have been rewritten to provide nurses with the essential information they need to comprehend assessment, its relationship to diagnosis and clinical reasoning, and the purpose and application of taxonomic organization at the bedside. A total of 46 new nursing diagnoses and 67 amended nursing diagnostics are presented.
Nurse's Pocket Guide: Diagnoses, Prioritized Interventions, and Rationales
Quick-reference tool includes all you need to identify the correct diagnoses for efficient patient care planning. The sixteenth edition includes the most recent nursing diagnoses and interventions from NANDA-I 2021-2023 and an alphabetized listing of nursing diagnoses covering more than 400 disorders.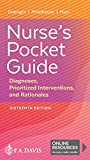 Nursing Diagnosis Manual: Planning, Individualizing, and Documenting Client Care
Identify interventions to plan, individualize, and document care for more than 800 diseases and disorders. Only in the Nursing Diagnosis Manual will you find for each diagnosis…. subjectively and objectively – sample clinical applications, prioritized action/interventions with rationales – a documentation section, and much more!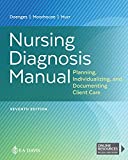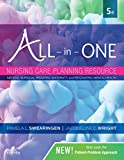 See also
Other recommended site resources for this nursing care plan:
Other nursing care plans affecting the integumentary system: