Cardiogenic shock is a condition caused by the inability of the heart to pump blood sufficiently to meet the metabolic needs of the body due to the impaired contractility of the heart. Clients usually manifest signs of low cardiac output, with adequate intravascular volume. It is usually associated with myocardial infarction (MI), cardiomyopathies, dysrhythmias, valvular stenosis, massive pulmonary embolism, cardiac surgery, or cardiac tamponade. It is a self-perpetuating condition because coronary blood flow to the myocardium is compromised, causing further ischemia and ventricular dysfunction.
Nursing Care Plans
The nursing care plan for clients with cardiogenic shock involves carefully assessing the client, observing cardiac rhythm, monitoring hemodynamic parameters, monitoring fluid status, and adjusting medications and therapies based on the assessment data.
Here are five (5) nursing care plans (NCP) nursing diagnosis for cardiogenic shock:
Impaired Gas Exchange
In cardiogenic shock, the heart is unable to pump enough blood to meet the body's needs, leading to decreased blood flow and oxygen delivery to vital organs and tissues. This decrease in oxygen delivery can result in impaired gas exchange, where the body is not able to effectively absorb oxygen from the lungs and release carbon dioxide.
Nursing Diagnosis
May be related to
Changes in the alveolar-capillary membrane.
Impaired ventilation-perfusion.
Possibly evidenced by
Abnormal arterial blood gasses (ABGs).
Abnormal respiratory rate, depth, and rhythm.
Changes in the level of consciousness.
Crackles.
Cyanosis.
Headache.
Hypercapnia.
Hypoxia.
Tachycardia.
Desired Outcomes
The client will maintain optimal gas exchange, as evidenced by ABGs within the normal range, oxygen saturation of 90% or greater, alert responsive mentation or no further reduction in the level of consciousness, relaxed breathing, and baseline HR for the client.
Nursing Assessment and Rationales
1. Assess the client's respiratory rate, rhythm, and depth.
During the early stages of shock, the client's respiratory rate will be increased due to hypercapnia and hypoxia. Once the shock progresses, the respirations become shallow, and the client will begin to hyperventilate. Respiratory failure develops as the client experiences respiratory muscle fatigue and decreased lung compliance.
2. Assess the client's heart rate and blood pressure.
As shock progresses, the client's blood pressure and heart rate will decrease and dysrhythmias may occur.
3. Assess for any signs of changes in the level of consciousness.
Headache and restlessness are early signs of hypoxia.
4. Auscultate the lung for areas of decreased ventilation and the presence of adventitious sounds.
Moist crackles are caused by increased pulmonary capillary permeability and increased intra-alveolar edema.
5. Assess for cyanosis or pallor by examining the skin, nail beds, and mucous membranes.
Cool, pale skin may be secondary to a compensatory vasoconstrictive response to hypoxemia. Peripheral tissues become cyanotic due to impaired oxygenation and perfusion.
6. Monitor oxygen saturation using pulse oximetry.
Pulse oximetry is used in measuring oxygenation concentration. The normal oxygen saturation should be maintained at 90% or higher.
7. Monitor arterial blood gasses.
Increasing Pac02 and decreasing Pa02 are signs of hypoxemia and respiratory acidosis. As the client's condition begins to fail, the respiratory rate will decrease and Pac02 will continue to increase.
Nursing Interventions and Rationales
1. Assist the client when coughing, and suction the client when needed.
Suction removes secretions if the client is unable to effectively clear the airway.
2. Place the client's head of the bed elevated.
This position facilitates optimal ventilation.
3. Administer oxygen as ordered.
Supplemental oxygen may be required to maintain PaO2 at an acceptable level.
4. Prepare the client for mechanical ventilation if oxygen therapy is ineffective.
Early intubation and mechanical ventilation are recommended to prevent full decompensation of the client. Mechanical ventilation provides supportive care to maintain adequate oxygenation and ventilation for the client.
Recommended Resources
Recommended nursing diagnosis and nursing care plan books and resources.
Disclosure: Included below are affiliate links from Amazon at no additional cost from you. We may earn a small commission from your purchase. For more information, check out our privacy policy.
Ackley and Ladwig's Nursing Diagnosis Handbook: An Evidence-Based Guide to Planning Care
We love this book because of its evidence-based approach to nursing interventions. This care plan handbook uses an easy, three-step system to guide you through client assessment, nursing diagnosis, and care planning. Includes step-by-step instructions showing how to implement care and evaluate outcomes, and help you build skills in diagnostic reasoning and critical thinking.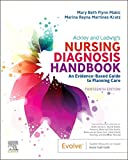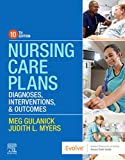 NANDA International Nursing Diagnoses: Definitions & Classification, 2021-2023
The definitive guide to nursing diagnoses is reviewed and approved by the NANDA International. In this new version of a pioneering text, all introductory chapters have been rewritten to provide nurses with the essential information they need to comprehend assessment, its relationship to diagnosis and clinical reasoning, and the purpose and application of taxonomic organization at the bedside. A total of 46 new nursing diagnoses and 67 amended nursing diagnostics are presented.
Nurse's Pocket Guide: Diagnoses, Prioritized Interventions, and Rationales
Quick-reference tool includes all you need to identify the correct diagnoses for efficient patient care planning. The sixteenth edition includes the most recent nursing diagnoses and interventions from NANDA-I 2021-2023 and an alphabetized listing of nursing diagnoses covering more than 400 disorders.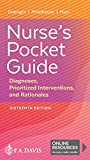 Nursing Diagnosis Manual: Planning, Individualizing, and Documenting Client Care
Identify interventions to plan, individualize, and document care for more than 800 diseases and disorders. Only in the Nursing Diagnosis Manual will you find for each diagnosis…. subjectively and objectively – sample clinical applications, prioritized action/interventions with rationales – a documentation section, and much more!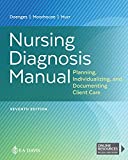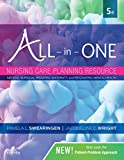 See also
Other recommended site resources for this nursing care plan:
Other care plans for hematologic and lymphatic system disorders: