Learn about nursing diagnosis for lymphoma and nursing care plans in this comprehensive guide. Discover the most effective nursing management strategies to care for patients with lymphoma and improve their quality of life.
What is Lymphoma?
Lymphoma is a form of cancer that affects the immune system – specifically, it is a cancer of immune cells called lymphocytes, a type of white blood cell. It includes distinct entities defined by clinical, histologic, immunologic, molecular, and genetic characteristics. Based on histologic characteristics, lymphomas are divided into two major subgroups: Hodgkin's disease and non-Hodgkin's lymphoma.
Nursing Care Plans
Below are three nursing care plans and nursing diagnoses for patients with Lymphomas.
Sexual Dysfunction
Lymphoma and its treatments can lead to changes in the body's structure and function, such as damage to nerves and blood vessels, and hormonal imbalances. These changes can affect sexual function and lead to sexual dysfunction, such as decreased libido, erectile dysfunction, and difficulty achieving orgasm.
Nursing Diagnosis
May be related to
Altered body structure or function (drugs, surgery, disease process, radiation [loss of sexual desire, disruption of sexual response pattern])
Possibly evidenced by
Verbalization of problem
An actual or perceived limitation imposed by disease and/or therapy
Alteration in relationship with SO
Desired Outcomes
The patient will verbalize understanding of individual reasons for sexual problems.
The patient will identify stressors in lifestyle that may contribute to the dysfunction.
The patient will discuss concerns about body image, sex role, and desirability as a sexual partner with a partner/SO.
Nursing Assessment and Rationales
1. Identify preexisting and current stress factors that may be affecting the relationship.
The patient may be concerned about other issues, such as job, financial, and illness-related problems.
2. Determine specific pathophysiology, illness, surgery or trauma involved and impact on (perception of) the individual.
A patient's perception of the individual effects of this illness is crucial to planning interventions that will be appropriate for those affected (patient and family).
Nursing Interventions and Rationales
1. Let the patient describe the problem in their own words.
Provides a more accurate picture of patient experience with which to develop a plan of care.
2. Know the importance of sex to the individual, partner, and patient's motivation for change.
Because lymphomas often affect the relatively young who are in their productive years, these people may be affected more by these problems and may be less knowledgeable about the possibilities of change.
3. Weigh knowledge of the patient and SO regarding sexual function and effects of current situation and condition.
Helps analyze areas of concern, misconception, and actual problems related to therapy side effects.
4. Assist with the treatment of the underlying condition.
As illness is treated and the patient can see improvement, hope is restored and the patient can begin to look to the future.
5. Provide factual information.
Promotes trust in caregivers.
6. Encourage and accept expressions of concern, anger, grief, and fear.
Helps the patient identify feelings and begin to deal with them.
7. Encourage the patient to share thoughts and concerns with the partner and to clarify values and the impact of the condition on the relationship.
Helps couples begin to deal with issues that can strengthen or weaken relationships.
8. Refer to appropriate community resources and support groups (CanSurmount).
Provides information about resources that are available to help with individual needs. Meeting with others who are dealing with the effects of devastating illness can help patients and families.
9. Provide written material and bibliotherapy Internet sites, and other resources appropriate to age and situation.
Reinforces information the patient has received.
10. Refer to a psychiatric clinical nurse specialist and professional sexual therapist as indicated.
May need additional in-depth assistance to resolve existing problems.
Recommended Resources
Recommended nursing diagnosis and nursing care plan books and resources.
Disclosure: Included below are affiliate links from Amazon at no additional cost from you. We may earn a small commission from your purchase. For more information, check out our privacy policy.
Ackley and Ladwig's Nursing Diagnosis Handbook: An Evidence-Based Guide to Planning Care
We love this book because of its evidence-based approach to nursing interventions. This care plan handbook uses an easy, three-step system to guide you through client assessment, nursing diagnosis, and care planning. Includes step-by-step instructions showing how to implement care and evaluate outcomes, and help you build skills in diagnostic reasoning and critical thinking.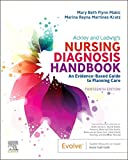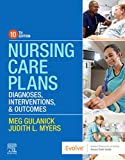 NANDA International Nursing Diagnoses: Definitions & Classification, 2021-2023
The definitive guide to nursing diagnoses is reviewed and approved by NANDA International. In this new version of a pioneering text, all introductory chapters have been rewritten to provide nurses with the essential information they need to comprehend assessment, its relationship to diagnosis and clinical reasoning, and the purpose and application of taxonomic organization at the bedside. A total of 46 new nursing diagnoses and 67 amended nursing diagnostics are presented.
Nurse's Pocket Guide: Diagnoses, Prioritized Interventions, and Rationales
Quick-reference tool includes all you need to identify the correct diagnoses for efficient patient care planning. The sixteenth edition includes the most recent nursing diagnoses and interventions from NANDA-I 2021-2023 and an alphabetized listing of nursing diagnoses covering more than 400 disorders.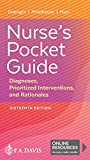 Nursing Diagnosis Manual: Planning, Individualizing, and Documenting Client Care 
Identify interventions to plan, individualize, and document care for more than 800 diseases and disorders. Only in the Nursing Diagnosis Manual will you find for each diagnosis subjectively and objectively – sample clinical applications, prioritized action/interventions with rationales – a documentation section, and much more!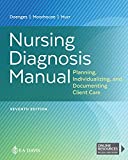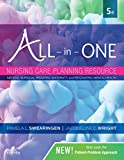 See also
Other recommended site resources for this nursing care plan:
Other care plans for hematologic and lymphatic system disorders: