Pulmonary tuberculosis (PTB) is an acute or chronic infection caused by Mycobacterium tuberculosis. PTB is characterized by pulmonary infiltrates, the formation of granulomas with caseation, fibrosis, and cavitation. The lungs are the most common site for the development of TB; 85% of clients diagnosed with TB present with pulmonary symptoms. The World Health Organization has estimated that 2 billion people have latent TB and that globally, in 2009, the disease killed 1.7 million people (Herchline & Stuart, 2020).
Humans are the only known reservoir for M. tuberculosis. The organism is spread primarily as an airborne aerosol from an individual who is in the infectious stage of TB. People living in crowded and poorly ventilated conditions and who are immunocompromised are most likely to become infected. In the United States, the incidence is higher among the homeless, drug-addicted, and impoverished populations, as well as among immigrants from or visitors to countries in which TB is endemic. In addition, persons at the highest risk include those who may have been exposed to the bacillus in the past and those who are debilitated or have lowered immunity because of chronic conditions such as AIDS, cancer, advanced age, and malnutrition. When the immune system weakens, dormant TB organisms can reactivate and multiply.
Classic clinical features associated with active pulmonary TB include cough, weight loss or anorexia, fever, night sweats, hemoptysis, chest pain, and fatigue. Additionally, clients diagnosed with PTB have abnormal breath sounds, especially over the upper lobes or involved areas. Rales or bronchial breath signs may be noted, indicating lung consolidation (Herchline & Stuart, 2020).
When this latent infection develops into an active disease, it is known as reactivation TB, which is often drug resistant. Multidrug-resistant tuberculosis (MDR-TB) is also on the rise, especially in large cities, in those previously treated with antitubercular drugs, or in those who failed to follow or complete a drug regimen. It can progress from diagnosis to death in as little as 4–6 weeks. MDR tuberculosis can be primary or secondary. Primary is caused by person-to-person transmission of a drug-resistant organism; secondary is usually the result of nonadherence to therapy or inappropriate treatment.
Nursing Care Plans
Here are five (5) nursing care plans (NCP) and nursing diagnoses (NDx) for pulmonary tuberculosis:
Risk for Infection
Most people who develop tuberculosis do so after a long period of latency (usually several years after the initial primary infection). This is known as secondary tuberculosis. Secondary tuberculosis usually occurs because of the reactivation of latent tuberculosis infection. The lesions of secondary tuberculosis are in the lung apices. A smaller proportion of people who develop secondary tuberculosis do so after getting infected a second time (Adigun & Singh, 2022).
Nursing Diagnosis
Risk factors
Inadequate primary defenses decreased ciliary action/stasis of secretions
Tissue destruction/extension of infection
Lowered resistance/suppressed inflammatory process
Malnutrition
Environmental exposure
Insufficient knowledge to avoid exposure to pathogens
Possibly evidenced by
Not applicable; a risk diagnosis is not evidenced by signs and symptoms, as the problem has not occurred and nursing interventions are directed at prevention.
Desired Outcomes
The client will identify interventions to prevent/reduce the risk of the spread of infection.
The client will demonstrate techniques/initiate lifestyle changes to promote a safe environment.
Nursing Assessment and Rationales
1. Review pathology of disease (active and inactive phases; dissemination of infection through bronchi to adjacent tissues or via the bloodstream and/or lymphatic system) and potential spread of infection via airborne droplet during coughing, sneezing, spitting, talking, laughing, singing.
This helps the client realize or accept the necessity of adhering to a medication regimen to prevent reactivation or complications. Understanding how the disease is passed and awareness of transmission possibilities help the client and SO take steps to prevent the infection of others. Pulmonary tuberculosis can be handled and controlled by giving information to clients to increase their self-efficacy. Increasing self-efficacy could improve the client's awareness of their health behavior (Bahtiar, 2019).
2. Identify others at risks like household members, close associates, and friends.
Those exposed may require a course of drug therapy to prevent the spread or development of infection. In more advanced countries, high-burden tuberculosis is seen among recent arrivals from tuberculosis-endemic zones, healthcare workers, and HIV-positive individuals (Adigun & Singh, 2022).
3. Monitor temperature as indicated.
Febrile reactions are indicators of the continuing presence of infection. Fever has been reported to occur in 60 to 85% of clients afflicted with PTB. As a rule, every case of active PTB exhibits some degree of pyrexia which is one of the important signs of TB activity (Rosha, 2011).
4. Identify individual risk factors for reactivation of tuberculosis: lowered resistance associated with alcoholism, malnutrition, intestinal bypass surgery, use of immunosuppressive drugs, corticosteroids, presence of diabetes mellitus, cancer, and postpartum.
Knowledge about these factors helps the client alter their lifestyle and avoid or reduce the incidence of exacerbation. Latent TB is capable of being reactivated after immunosuppression in the host. A small proportion of people would develop an active disease following first exposure. Such cases are referred to as primary progressive tuberculosis. Primary progressive tuberculosis is seen in children, malnourished people, people with immunosuppression, and individuals on long-term steroid use (Adigun & Singh, 2022).
5. Monitor Liver function studies: AST/ALT.
Monitors adverse effects of drug therapy including hepatitis. A liver function test is required for all clients taking isoniazid. Other monitoring in TB includes monitoring for retinopathies for clients on ethambutol (Adigun & Singh, 2022).
Nursing Interventions and Rationales
1. Instruct the client to cough or sneeze and expectorate into tissue and to refrain from spitting. Review proper disposal of tissue and good hand washing techniques. Encourage return demonstration.
These behaviors are necessary to prevent the spread of infection. Lack of awareness is one cause of the lack of adherence to medication protocols and negative health behaviors, such as spitting and sneezing, in PTB clients (Bahtiar, 2019).
2. Encourage the client and family members to be active in TB infection control at home.
Clients with suspected or confirmed TB disease are more likely to have already transmitted TB infection to members of their household before their TB disease was diagnosed and treatment was started. Clients diagnosed with TB should be instructed to cover their mouth and nose when coughing or sneezing, sleep alone and not in a room with other household members, and refrain from having visitors in the home until they are non-infectious (Centers for Disease Control and Prevention, 2007).
3. Review the necessity of infection control measures. Put in temporary respiratory isolation if indicated.
This may help the client understand the need for protecting others while acknowledging the client's sense of isolation and social stigma associated with communicable diseases. AFB can pass through standard masks; therefore, particulate respirators are required. Persons who have or are suspected of having infectious TB disease should be placed in an area away from other clients, preferably in an airborne infection isolation room. If a facility does not have this particular room, the client should be placed in a room that has been designated for isolation of persons with suspected or known infectious TB disease (Centers for Disease Control and Prevention, 2007).
4. Stress the importance of uninterrupted drug therapy. Evaluate the client's potential for cooperation.
The contagious period may last only 2 to 3 days after initiation of chemotherapy, but in presence of cavitation or moderately advanced disease, the risk of spread of infection may continue for up to 3 months. Compliance with multidrug regimens for prolonged periods is difficult, so directly observed therapy (DOT) should be considered. The majority of clients with a diagnosis of TB have a good outcome. This is mainly because of effective treatment. Without treatment, the mortality rate for TB is more than 50% (Adigun & Singh, 2022).
5. Review the importance of follow-up and periodic reculturing of sputum for the duration of therapy.
These second-line drugs may be required when the infection is resistant to or intolerant of primary drugs or may be used concurrently with primary anti-tubercular drugs. MDR-TB requires a minimum of 18 to 24 months of therapy with at least three drugs in the regimen known to be effective against the specific infective organism and which the client has not previously taken. Treatment is often extended to 24 months in clients with severe symptoms or HIV infection.
6. Encourage selection and ingestion of well-balanced meals. Provide frequent small "snacks" in place of large meals as appropriate.
The presence of anorexia or preexisting malnutrition lowers resistance to infectious processes and impairs healing. Small snacks may enhance overall intake. A study found that the number of calories, food frequency per day, types of TB, and nutritional status during registration were found to be associated with recent nutritional status (Gurung et al., 2018).
7. Notify the local health department.
This is helpful in identifying contacts to reduce the spread of infection and is required by law. The treatment course is long and usually handled in the community with public health nurse monitoring. Health departments in the 50 US states and Dc report TB cases to the CDC based on the Council of State and Territorial Epidemiologists' surveillance case definition, which includes both laboratory and clinically verified cases (Filardo, 2022).
8. Administer anti-infective agents as indicated.
Initial therapy of uncomplicated pulmonary disease usually includes four drugs, e.g., four primary drugs or a combination of primary and secondary drugs. 2020 LTBI guidelines include the NTCA- and CDC-recommended treatment regimens that comprise three preferred rifamycin-based regimens and two alternative monotherapy regimens with daily isoniazid (Adigun & Singh, 2022) (Adigun & Singh, 2022).
9. Administer Primary drugs: isoniazid (INH), ethambutol (Myambutol), rifampin (RMP/Rifadin), rifampin with isoniazid (Rifamate), pyrazinamide (PZA), streptomycin, rifapentine (Priftin) as indicated.
INH is usually the drug of choice for the infected client and those at risk for developing TB. Short-course chemotherapy, including INH, rifampin (for six months), PZA, and ethambutol or streptomycin, is given for at least two months (or until sensitivities are known or until serial sputum is clear) followed by three more months of therapy with INH. Ethambutol should be given if central nervous system (CNS) or disseminated disease is present or if INH resistance is suspected (Adigun & Singh, 2022).
10. Administer Second-line drugs: ethionamide (Trecator-SC), para-aminosalicylate (PAS), cycloserine (Seromycin), and capreomycin (Capastat) as indicated.
Extended therapy (up to 24 months) is indicated for reactivation cases, extrapulmonary reactivated TB, or in the presence of other medical problems, such as diabetes mellitus or silicosis. Prophylaxis with INH for 12 months should be considered in HIV-positive clients with positive PPD tests.
11. Administer bedaquiline (Sirturo) as ordered.
On December 28, 2012, the United States Food and Drug Administration Agency (FDA) approved Bedaquiline as a drug for treating MDR-TB. This is the first FDA approval for an anti-TB medication in 40 years. While showing remarkable promise in drug-resistant tuberculosis, cost remains a big obstacle to delivering this drug to the people most affected by MDR-TB (Adigun & Singh, 2022).
12. Educate the client and family members regarding BCG vaccination for children.
Vaccination drive in developing countries has played a bigger role in decreasing the prevalence of TB. The preventative effect of BCG vaccination is controversial but many studies have identified vaccination as a very important tool in the fight against tuberculosis, therefore, the focus should be kept on childhood vaccination, especially in developing countries (Adigun & Singh, 2022).
13. Ensure that the healthcare team is adherent to respiratory protection controls when handling the client.
Respiratory protection control consists of the use of personal protective equipment in situations that pose a high risk for exposure to TB disease. The use of respiratory protection can further reduce the risk of exposure of HCWs to droplet nuclei expelled into the air. These measures include implementing a respiratory protection program, training HCWs on respiratory protection, and educating clients on respiratory hygiene (Centers for Disease Control and Prevention, 2007).
Recommended Resources
Recommended nursing diagnosis and nursing care plan books and resources.
Disclosure: Included below are affiliate links from Amazon at no additional cost from you. We may earn a small commission from your purchase. For more information, check out our privacy policy.
Ackley and Ladwig's Nursing Diagnosis Handbook: An Evidence-Based Guide to Planning Care
We love this book because of its evidence-based approach to nursing interventions. This care plan handbook uses an easy, three-step system to guide you through client assessment, nursing diagnosis, and care planning. Includes step-by-step instructions showing how to implement care and evaluate outcomes, and help you build skills in diagnostic reasoning and critical thinking.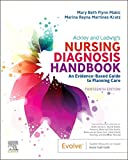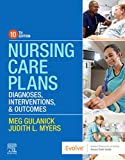 NANDA International Nursing Diagnoses: Definitions & Classification, 2021-2023
The definitive guide to nursing diagnoses is reviewed and approved by the NANDA International. In this new version of a pioneering text, all introductory chapters have been rewritten to provide nurses with the essential information they need to comprehend assessment, its relationship to diagnosis and clinical reasoning, and the purpose and application of taxonomic organization at the bedside. A total of 46 new nursing diagnoses and 67 amended nursing diagnostics are presented.
Nurse's Pocket Guide: Diagnoses, Prioritized Interventions, and Rationales
Quick-reference tool includes all you need to identify the correct diagnoses for efficient patient care planning. The sixteenth edition includes the most recent nursing diagnoses and interventions from NANDA-I 2021-2023 and an alphabetized listing of nursing diagnoses covering more than 400 disorders.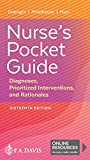 Nursing Diagnosis Manual: Planning, Individualizing, and Documenting Client Care
Identify interventions to plan, individualize, and document care for more than 800 diseases and disorders. Only in the Nursing Diagnosis Manual will you find for each diagnosis…. subjectively and objectively – sample clinical applications, prioritized action/interventions with rationales – a documentation section, and much more!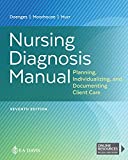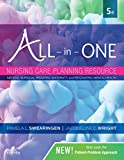 See Also
Other recommended site resources for this nursing care plan:
Other nursing care plans related to respiratory system disorders:
References and Sources
Recommended journals, books, and other interesting materials to help you learn more about tuberculosis nursing care plans and nursing diagnosis:
Adigun, R., & Singh, R. (2022, January 5). Tuberculosis – StatPearls – NCBI Bookshelf. NCBI. Retrieved January 20, 2023.
Akkerman, O. W., ter Beek, L., Centis, R., Maeurer, M., Visca, D., Muñoz-Torrico, M., Tiberi, S., & Migliori, G. B. (2020, March). Rehabilitation, optimized nutritional care, and boosting host internal milieu to improve long-term treatment outcomes in tuberculosis patients. International Journal of Infectious Diseases, 92.
Almadhoun, K., & Sharma, S. (2022, November 14). Bronchodilators – StatPearls – NCBI Bookshelf. NCBI. Retrieved January 21, 2023.
American Lung Association. (2022, November 17). Breathing Exercises. American Lung Association. Retrieved January 21, 2023.
Bahtiar, A. Y. N. (2019, September). Utilization of interactive educational media in improving self efficacy of lung tuberculosis patients: Systematic literature review. Enfermeria Clinica, 29(2).
Centers for Disease Control and Prevention. (2007). Chapter 7 Tuberculosis Infection Control. CDC. Retrieved January 20, 2023.
Centers for Disease Control and Prevention. (2014). Self-Study Modules on Tuberculosis Module 6 Managing Tuberculosis Patients and Improving Adherence. CDC. Retrieved January 22, 2023.
Chaudry, D., & Tyagi, D. (2021, May). Tuberculosis in Intensive Care Unit. Indian Journal of Critical Care Medicine, 25(2).
Clough, S., Shaw, A., & Morgan, C. (2018, June). Tuberculosis and oral healthcare provision. British Dental Journal, 224.
Doenges, M. E., Moorhouse, M. F., & Murr, A. C. (2010). Nursing Care Plans: Guidelines for Individualizing Client Care Across the Life Span. F.A. Davis Company.
Filardo, T. D. (2022, March 25). Tuberculosis — United States, 2021 – PMC. NCBI. Retrieved January 20, 2023.
Guessogo, W. R., Mandengue, S. H., Assomo Ndemba, P. B., Medjo, U. O., Minye, E. E., Ahmaidi, S., & Temfemo, A. (2016, August). Physical and functional follow-up of tuberculosis patients in initial intensive phase of treatment in Cameroon using the 6-min walk test. Journal of Exercise Rehabilitation, 12(4), 333-339.
Guppy, M. P., Mickan, S. M., Del Mar, C. B., Thorning, S., Rack, A., & Cochrane Acute Respirator Infections Group. (2011). Advising patients to increase fluid intake for treating acute respiratory infections. NCBI. Retrieved January 20, 2023.
Gurung, L. M., Bhatt, L. D., Karmacharya, I., & Yadav, D. K. (2018). Dietary Practice and Nutritional Status of Tuberculosis Patients in Pokhara: A Cross Sectional Study. Frontiers in Nutrition, 5.
Herchline, T. E., & Stuart, M. (2020, June 4). Tuberculosis (TB): Practice Essentials, Background, Pathophysiology. Medscape Reference. Retrieved January 19, 2023.
Kanabus, A. (2022, September). Food & TB – best food for a person with TB. TBFacts.org. Retrieved January 21, 2023.
Musuenge, B. B., Poda, G. G., & Chen, P.-C. (2020, August). Nutritional Status of Patients with Tuberculosis and Associated Factors in the Health Centre Region of Burkina Faso. Nutrients, 12(9).
O'Connor, C., & Brady, M. F. (2022, April 8). Isoniazid – StatPearls – NCBI Bookshelf. NCBI. Retrieved January 22, 2023.
Prasad, K., Singh, M. B., & Ryan, H. (2016, April). Corticosteroids for managing tuberculous meningitis – PMC. NCBI. Retrieved January 21, 2023.
Raina, A. H., Bhat, A., Bhat, F. A., Changal, K. H., Dhobi, G. N., Koul, P. A., Raina, M. A., & Wani, F. A. (2013, October). Pulmonary tuberculosis presenting with acute respiratory distress syndrome (ARDS): A case report and review of literature. Egyptian Journal of Chest Disease and Tuberculosis, 62(4), 655-659.
Rosha, D. (2011, July). PROLONGED FEVER DURING THE TREATMENT OF PULMONARY TUBERCULOSIS. Medical Journal, Armed Forces India, 58(2), 127-129.
Selvia, D. R., Ariyanto, H., & Setiawan, H. (2022, June). Implementation of Evidence-Based Nursing for Expelling Sputum in Tuberculosis Patients with Chest Physiotherapy and Effective Coughing Exercises: A Case Study. International Journal of Nursing and Health Services, 5(3).
Sivaranjini, S., Vanamail, P., & Eason, J. (2010, September). Six Minute Walk Test in People with Tuberculosis Sequelae. Cardiopulmonary Physical Therapy Journal, 21(3), 5-10.
van Aswegen, H., & Roos, R. (2017, January). Physical impairments and activity limitations experienced by people with tuberculosis: a scoping review protocol. JBI Database of Systematic Reviews and Implementation Reports, 15(1), 49-54.
World Health Organization. (2013). Background – Guideline: Nutritional Care and Support for Patients with Tuberculosis. NCBI. Retrieved January 22, 2023.
World Health Organization. (2018, March 22). Smoking and tuberculosis: a dangerous combination. World Health Organization (WHO).