Caring for a dying child is one of the most challenging experiences a nurse can face. As a nurse, it is essential to provide compassionate and effective care to both the child and their family during this difficult time.
Meeting the physical, emotional, and psychosocial needs of a dying child is important to support the totally dependent child and grieving family in experiencing the best quality of life possible. The child's terminal illness and care can affect the whole family, hence, the nurse's initial role is to establish rapport in order to build and develop effective communication that assists in alleviating unnecessary fears and anxiety about impending death and supporting anticipatory grieving.
Nursing Care Plans
A nursing care plan for a dying child involves providing substantial and appropriate age-related information about death and dying to allay anxiety, providing optimal pain relief through pharmacological and non-pharmacological methods, assisting the child to move through the stages of awareness and acceptance, and helping the family cope through the stages of grieving.
Here are four (4) nursing care plans (NCP) and nursing diagnosis (NDx) for a dying child:
Acute Pain
Acute pain for a dying child can occur due to a variety of reasons, including the underlying illness or condition causing the child's death. The pain may be a result of treatments or procedures meant to prolong the child's life, such as surgeries or chemotherapy. Additionally, the emotional distress and anxiety experienced by the child and their loved ones during this difficult time can also contribute to the child's pain.
Nursing Diagnosis
May be related to
Underlying illness
Biologic, physical, and psychological injuring agents
Possibly evidenced by
Communication [verbal or coded] of pain descriptors
Age-related expression of pain behaviors
Crying, moaning
Facial grimacing
Guarding, protective behavior
Increase in heart rate, breathing rate, and blood pressure
Irritability, restlessness
Tension or flexion of muscles
Desired Outcomes
The child will appear relaxed and is not crying, grimacing, or moaning.
The child will experience less pain.
Nursing Assessment and Rationales
1. Assess the intensity of pain, fear of receiving pain medication, anxiety and coping mechanisms related to pain, and ability to rest and sleep.
Assessing the intensity of pain, fear of receiving pain medication, anxiety, and coping mechanisms related to pain, as well as the ability to rest and sleep, is essential for effective pain management. This information serves as a basis for determining appropriate analgesic administration and developing tailored care plans that meet the unique needs of each child. Developmentally-based pain scales provide a reliable and accurate assessment of a child's discomfort, enabling healthcare providers to identify pain patterns and adjust treatment plans accordingly.
Nursing Interventions and Rationales
1. Educate the child and parents on the route of medication administration and expected side effects; that pain will be monitored continuously and medication adjusted as needed to control pain.
Provides assurance that pain will be controlled continuously whether or not the child is able to express pain.
2. Support the coping mechanisms of the child and family and modify analgesics accordingly, with input from the child, parents, and physician.
Promotes the child's comfort supports coping abilities and includes parents and child in decision-making regarding care.
3. Provide familiar toys/blankets to the child; Encourage parents and significant others to stay with the child at all times.
Providing familiar toys, blankets, and other comforting items to children can significantly reduce fear and anxiety during hospitalization. These items provide a sense of security and familiarity, which can help children cope with the stress of being in an unfamiliar environment. Encouraging parents and significant others to stay with the child at all times can also provide a source of comfort and support. This can be particularly important for young children who may feel scared or alone in the hospital.
4. Provide nonpharmacologic pain management strategies: therapeutic touch, soothing baths; massage therapy to painful areas; distraction techniques (e.g., guided imagery, hypnosis, biofeedback, breathing techniques, music, reading, journal writing, gentle movement, aroma, humor, prayer, hypnosis, relaxation techniques).
Reduces pain perceptions and may foster a sense of control.
5. Dim lights, avoid noise, maintain a clean, comfortable bed with loose sheets and clothing, and disturb for care only when needed to promote comfort.
Provides an environment free of stimuli that increase anxiety and pain.
6. Assist with position changes as tolerated, use pillows to support position, move slowly with gentle handling, and give a back rub.
A nonpharmacologic measure to reduce pain.
7. Discuss with the child and parents that verbalizing fear and feelings about pain and its control is common.
Decreases anxiety by recognizing fear of pain and encouraging to express feelings and concerns about methods of control.
8. Administer intermittent or continuous analgesic as prescribed based on the severity of the pain, and administer it prior to any painful procedure or care being performed.
Provides coverage of pain medications to guarantee freedom from any type of pain and discomfort including administration of analgesics for quick relief if given intermittently.
9. Educate parents and the child that care and treatment will only be palliative.
Lessens anxiety and stress caused by apprehension of painful interventions.
Recommended Resources
Recommended nursing diagnosis and nursing care plan books and resources.
Disclosure: Included below are affiliate links from Amazon at no additional cost from you. We may earn a small commission from your purchase. For more information, check out our privacy policy.
Ackley and Ladwig's Nursing Diagnosis Handbook: An Evidence-Based Guide to Planning Care
We love this book because of its evidence-based approach to nursing interventions. This care plan handbook uses an easy, three-step system to guide you through client assessment, nursing diagnosis, and care planning. Includes step-by-step instructions showing how to implement care and evaluate outcomes, and help you build skills in diagnostic reasoning and critical thinking.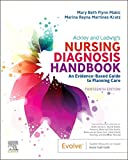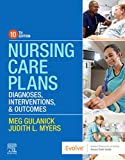 NANDA International Nursing Diagnoses: Definitions & Classification, 2021-2023
The definitive guide to nursing diagnoses is reviewed and approved by the NANDA International. In this new version of a pioneering text, all introductory chapters have been rewritten to provide nurses with the essential information they need to comprehend assessment, its relationship to diagnosis and clinical reasoning, and the purpose and application of taxonomic organization at the bedside. A total of 46 new nursing diagnoses and 67 amended nursing diagnostics are presented.
Nurse's Pocket Guide: Diagnoses, Prioritized Interventions, and Rationales
Quick-reference tool includes all you need to identify the correct diagnoses for efficient patient care planning. The sixteenth edition includes the most recent nursing diagnoses and interventions from NANDA-I 2021-2023 and an alphabetized listing of nursing diagnoses covering more than 400 disorders.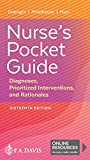 Nursing Diagnosis Manual: Planning, Individualizing, and Documenting Client Care
Identify interventions to plan, individualize, and document care for more than 800 diseases and disorders. Only in the Nursing Diagnosis Manual will you find for each diagnosis…. subjectively and objectively – sample clinical applications, prioritized action/interventions with rationales – a documentation section, and much more!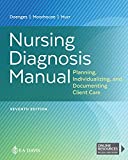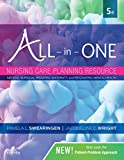 See also
Other recommended site resources for this nursing care plan:
Other nursing care plans for pediatric conditions and diseases: