Whether it is a brief hospital admission, a follow-up check-up, surgery, or recurrent hospitalizations due to chronic illness, a child who is hospitalized creates a crisis within the family. A child's responses to hospitalization are associated with the developmental level but usually include fear of separation, loss of control, injury, and pain.
The smoothness of the transition from home to the hospital relies on how well the child has been prepared for it and how the child's physical and emotional needs have been satisfied. Providing support to the family, supplying them with information, and empowering their participation in the child's care adds to the adjustment and well-being of all concerned.
Nursing Care Plans
The major nursing care plan goals for a child who is hospitalized include increased ability to perform self-care activities, promoting the child's emotional well-being, and an increased sense of the power of family in making decisions and absence of injury.
Here are five (5) nursing care plans (NCP) and nursing diagnosis (NDx) for the hospitalized child:
Self-Care Deficit
When a child is hospitalized and experiencing discomfort, they may not have the physical ability or energy to perform activities of daily living (ADLs) such as bathing, grooming, and eating. This can lead to a self-care deficit as the child is unable to meet their own basic needs without assistance.
Nursing Diagnosis
May be related to
Pain/discomfort
Inability to perform ADL
Possibly evidenced by
Inability to wash the body, take off or put on clothing, feed self
Inability to carry out toileting with the use of a bedpan or go to the bathroom
Required bed rest
The positioning or mechanical limitations
Fatigue, Weakness
Desired Outcomes
The child will attain maximum self-care capability with or without the use of aids.
Nursing Assessment and Rationales
1. Assess physical tolerance and abilities to perform ADL, and play activities and restrictions imposed by the illness and medical protocol.
Provides information about the amount of energy and the effect of illness on activity level.
Nursing Interventions and Rationales
1. Provide personal care for the infant and small child; assist the child and adjust times and methods to fit the home routine.
Provides needed assistance where using patterns and articles that encourage the parent to assist the child. The child is accustomed to using and doing.
2. Anticipate the child's needs for toileting, feeding, brushing teeth, bathing, and other care if unable to manage on own; allow the child to do as much as possible.
Prevents embarrassing experiences with toileting and maintains comfort with personal cleanliness and appearance.
3. Praise the child for participation in own care according to age, developmental level, and energy.
Promotes self-esteem and independence.
4. Balance activities with rest as needed; place needed articles and call light within reach if appropriate.
Prevents fatigue by conserving energy and promoting rest.
5. Provide assistive aids or devices to perform ADL, and allow choices when possible.
Assists child in performing self-care for ADL.
6. Encourage rest and quiet periods.
Ensures proper rest and prevents fatigue.
7. Instruct parents to interpret the child's needs if the child is too young to talk.
Provides anticipatory care for the child.
8. Provide instructions in bathing, hygiene, toileting, feeding, and dressing while in a hospital environment and inform of differences from home care and methods as needed.
Promotes performance of ADL skills already known by the child.
9. Encourage parents to assist the child in ADL but to allow the child as much independence as the condition permits; inform parents that a place is provided for their personal needs in order to allow them to remain with the child.
Promotes independence and some control by the child without separating the child from parents.
Recommended Resources
Recommended nursing diagnosis and nursing care plan books and resources.
Disclosure: Included below are affiliate links from Amazon at no additional cost from you. We may earn a small commission from your purchase. For more information, check out our privacy policy.
Ackley and Ladwig's Nursing Diagnosis Handbook: An Evidence-Based Guide to Planning Care
We love this book because of its evidence-based approach to nursing interventions. This care plan handbook uses an easy, three-step system to guide you through client assessment, nursing diagnosis, and care planning. Includes step-by-step instructions showing how to implement care and evaluate outcomes, and help you build skills in diagnostic reasoning and critical thinking.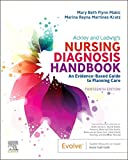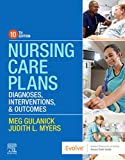 NANDA International Nursing Diagnoses: Definitions & Classification, 2021-2023
The definitive guide to nursing diagnoses is reviewed and approved by NANDA International. In this new version of a pioneering text, all introductory chapters have been rewritten to provide nurses with the essential information they need to comprehend assessment, its relationship to diagnosis and clinical reasoning, and the purpose and application of taxonomic organization at the bedside. A total of 46 new nursing diagnoses and 67 amended nursing diagnostics are presented.
Nurse's Pocket Guide: Diagnoses, Prioritized Interventions, and Rationales
Quick-reference tool includes all you need to identify the correct diagnoses for efficient patient care planning. The sixteenth edition includes the most recent nursing diagnoses and interventions from NANDA-I 2021-2023 and an alphabetized listing of nursing diagnoses covering more than 400 disorders.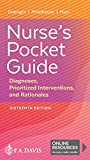 Nursing Diagnosis Manual: Planning, Individualizing, and Documenting Client Care 
Identify interventions to plan, individualize, and document care for more than 800 diseases and disorders. Only in the Nursing Diagnosis Manual will you find for each diagnosis subjectively and objectively – sample clinical applications, prioritized action/interventions with rationales – a documentation section, and much more!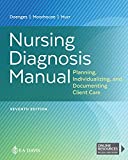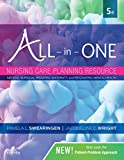 See also
Other recommended site resources for this nursing care plan:
Other nursing care plans for pediatric conditions and diseases: