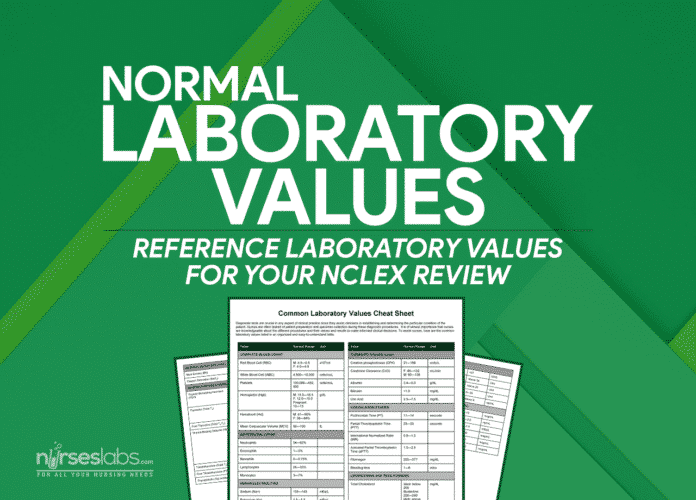 Diagnostic tests are crucial in any aspect of clinical practice since they assist clinicians in the establishment and determination of the patient's condition.
Nurses are often tasked of patient preparation and specimen collection during these diagnostic procedures. It is of utmost importance that nurses are knowledgeable about the different procedures and their values and results to make informed clinical decisions.
To assist nurses, here are the common laboratory values listed in an organized and easy-to-understand cheat sheet table. You can also use it for your NCLEX!
Download
Use the link below to download the PDF file of this Laboratory and Diagnostic Procedures cheat sheet. Print it using a US Legal Size (8.5″x14″) paper.
Common Laboratory Values
Value
Normal Range
Unit
COMPLETE BLOOD COUNT
Red Blood Cell (RBC)
M: 4.5—5.5
F: 4.0—4.9
x105/ml
White Blood Cell (WBC)
4,500—10,000
cells/mcL
Platelets
100,000—450,000
cells/mcL
Hemoglobin (Hgb)
M: 13.5—16.5
F: 12.0—15.0
Pregnant: 10—15
g/dL
Hematocrit (Hct)
M: 41—50%
F: 36—44%
Mean Corpuscular Volume (MCV)
80—100
fL
DIFFERENTIAL COUNT
Neutrophils
54—62%
Eosinophils
1—3%
Basophils
0—0.75%
Lymphocytes
25—33%
Monocytes
3—7%
SERUM ELECTROLYTES
Sodium (Na+)
135—145
mEq/L
Potassium (K+)
3.5—5.5
mEq/L
Chloride (Cl-)
95—105
mEq/L
Calcium
8.5—10.9
mEq/L
Calcium, ionized
2.24—2.46
mEq/L
Magnesium (Mg)
1.5—2.5
mEq/L
Phosphorus (P)
2.5—4.5
mEq/L
URINALYSIS
Volume
1,000—2,000
mL/day
30
mL/hour
Specific Gravity
1.010—1.020
pH
4.5—8
Casts
1—2
per high power field
Glucose
none
Protein
none
Uric Acid
F: 3.5—7.2
M: 2.6—6.0
mg/dL
CHEMISTRY VALUES
Glucose
Adults: 70—110
mg/dL
Blood Urea Nitrogen (BUN)
Adults: 7—18
Child: 5—20
Infant: 5—15
mg/dL
Serum Creatinine
0.6—1.35
mg/dL
Creatinine Clearance (CrCl)
F: 85—132
M: 90—138
mL/min
Albumin
3.4—5.0
g/dL
Bilirubin
<1.0
mg/dL
Uric Acid
3.5—7.5
mg/dL
Creatine phosphokinase (CPK)
21—198
units/L
COAGULATION STUDIES
Prothrombin Time (PT)
11—14
seconds
Partial Thromboplastin Time (PTT)
25—35
seconds
International Normalized Ratio (INR)
0.8—1.2
Activated Partial Thromboplastin Time (aPTT)
1.5—2.5
Fibrinogen
203—377
mg/dL
Bleeding time
1—6
mins
LIPOPROTEINS AND TRIGLYCERIDES
Total Cholesterol
Ideal: below 200
Borderline: 200—240
High: above 240
mg/dL
Low Density Lipoprotein (LDL)
<70
mg/dL
High Density Lipoprotein (HDL)
<60
mg/dL
Triglycerides
Normal: below 150
Borderline high: 150—199
High: 200—499
Very high: above 500
mg/dL
SGOT (AST)
<35
IU/L
SGPT (ALT)
<35
IU/L
CARDIAC MARKERS
Troponin (CTN-1 or CTN-T)
Normal I: 0.03
Critical level I: above 1.5
Critical level T: 0.2
ng/L
C-reactive protein
Below 0.8
mg/dL
CD40 Ligand
1.51—5.35
mg/L
Creatinine Kinase (CK-MB)
0—3
mcg/L
ARTERIAL BLOOD GAS
pH
7.35—7.45
Partial Pressure of CO2 (pCO2)
35—45
mmHg
Partial Pressure of O2 (pO2)
80—100
mmHg
Bicarbonate (HCO3)
22—26
mEq/L
Base Excess (BE)
-2—+2
mEq/L
Oxygen Saturation (SaO2)
95—100%
THYROID FUNCTION STUDIES
Thyroid-Stimulating Hormone (TSH)
Adults: 0.2—5.4
Neonate: 3—20
mU/L
Thyroxine (Total T4)
Adult: 5.4—11.5
Child: 6.4—13.3
mcg/dL
Free Thyroxine (Total T4 F4)
Adult: 0.7—2.0
ng/dL
Thyroid-Binding Globulin (TBG)
Male: 15—30
Female: 11.5—32.2
Pregnancy
1st Trimester: 19.8—64.7
2nd Trimester: 41.4—63.9
3rd Trimester: 31.0—73.6
mcg/dL
Triiodothyronine (Total T3)
75—200
ng/dL
Free Triiodothyronine (FT3)
260—480
pg/dL
Thyroglobulin (Tg) Antibody
5—25
ng/mL
TUMOR MARKERS
CA 19-9 Tumor Markers
<37
U/mL
CA 27.29
Above 38
Uml
CA 15.3
Above 22
Uml
CA 125
0—35
Uml
Carcinoembryonic Antigen (CEA)
Above 5
ng/mL
THERAPEUTIC SERUM DRUG LEVELS
Carbamazepine (Tegretol)
4—10
mcg/mL
Digoxin (Lanoxin)
0.8—2.0
ng/mL
Lithium (Eskalith)
0.8—1.5
mEq/L
Phenobarbital (Solfoton)
15—40
mcg/mL
Theophylline (Aminophylline)
10—20
mcg/mL
Valproic Acid (Depakene)
50—100
mcg/mL
See Also